abba voulez-vous | AAA Music
aaamusic | On 04, Jun 2010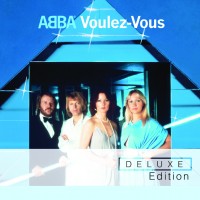 Perceived by everyone as the kings and queen of pop disco, the Deluxe Edition of Voulez-Vous leaves few surprises to the old, hard-core fans of the Swedish group.
First released in 1979, from the first notes (and videos), it was clear that they were meant to become the icon of the genre and of the time, thanks also to their stunning costumes and dancing shoes.
Spanning from disco (quite an obliged choice in 1979, in full disco craze era), to ballads, they managed to outshine the tendency of the time and bring fresh air to the dance floor.
Voulez-Vous contains what will become their worldwide hits, such as Chiquitita – Latin influenced ballad, I have A Dream and Voulez-Vous – cracking tune shaped by great keyboards and basslines, as well as my personal favourite, companion of many car trips across Europe in the late 80s/early 90s with my parents – Does Your Mother Know, which winks at generic rock, but still played in sparkling playsuit. Oh, the attitude is all.
This Deluxe Edition includes few surprises, with Gimme! Gimme! Gimme! (A Man After Midnight), Lovelight (Chiquitita B side), outtake of Dream World and extended 12" promo of Voulez-Vous. It also includes two disc DVD which feature a BBC in-concert documentary, some TV performances, commercials and gallery of picture sleeves. All good, don't get me wrong, but perhaps fans would have rather preferred to have some rarities, especially when the long version of Summer Night City is preferred to the familiar version. But then again, Deluxe Editions are also winking to new audiences and sometimes forget that who actually buys them are those hard core nostalgia fans who want to own back a tangible piece of their youth.
Author: Alessia