fun. - aim & ignite | AAA Music
aaamusic | On 04, Jun 2010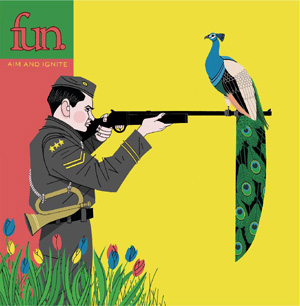 The opening strings of the gypsy violin in Be Calm tell it all. fun. debut album Aim & Ignite is pompous, filled with complex harmonies and vocals, lost of influences to theatrical bands, such as Queen. Pretty risky, but it does pay off.
So Be Calm introduces us to the fun. world: violin, circus atmospheres, gentle guitar but then, as an unexpected tornado on a sunny day, the song rhythm changes, accelerates, as if it had the urge to get out there in the open. The same urge Ruess has to sing the lyrics, increasing the power of his vocals and reaching higher notes as the song progresses. The sound has dismissed the circus atmosphere to adopt an orchestral one. Pretty awesome also the touch of female vocals.
Benson Hedges sounds like Queen's Fat Bottomed Girls, beginning with high vocals chorus, almost gospel, to then evolve into a great indie-pop tune, with lots of keyboards and amazing drumming. I love it.
Single All The Pretty Girls doesn't need introduction, great ensemble of choruses, falsettos and theatrical composition.
Piano intro for I Wanna Be The One, swinging trumpet, 60s atmosphere, violin and lovely chorus all contribute to create one of the best tracks of the album, should be definitely considered as next single, extremely radio friendly and perfect example of how pop should sound like.
At Least I'm Not As Sad (AS I Used To Be) mixes Queen with Architecture in Helsinki, the result is extraordinary. Featuring again female vocals, Reuss voice equals Freddie Mercury in versatility. Totally adore the waltzer drum beat towards the end of the track, although nothing new (well Queen did that before!) it is pretty cool and it is something that stands out from the current music scenario.
Light A Roman Candle With Me is another nice, easy listening ballad, providing ground for stretching vocals and showcase for their musical abilities and eclecticism. Strings mix well with keyboard, drums and guitar riffs. Beautiful.
Walking The Dog sounds like those great holiday tunes from the 80s, winking at ska melodies, I imagine them as contemporary Wham, sipping "club Tropicana" cocktails by the pool. Not my favourite of the album but it really cheers you up.
The Gambler beautiful piano intro and gentle vocals, joined by the violin create a mesmerizing ballad. Reuss really knows how to use his voice, emphasizing every note.
Closing track is Take Your Time (Coming Home): and literally, do so, as the track is around 7 minutes long, but all well worth it, with great falsettos, choruses and incredibly well structured rhythm, the band really showcases all their skills in this track.
One of the most exciting debut albums of the year, fun. Aim & Ignite proves that if it's true that everyone takes inspiration from great artists from the past, it takes great talent to twisting the influences and create something original from them. Nate Reuss also gives a lesson or two to Justin Hawkins and Mika on how to sing in falsetto and reach high notes without sounding ridiculous and annoying.
The UK version also includes a bunch of bonus tracks: 11.  Intro (Live @ Fingerprints) / 12. Walking The Dog (Live @ Fingerprints) / 13. All The Pretty Girls (Live @ Fingerprints) / 14. Interlude (Live @ Fingerprints) / 15. The Gambler (Live @ Fingerprints) / 16. At Least I'm Not As Sad (As I Used To Be) (Live @ Fingerprints) / 17. Take Your Time (Live @ Fingerprints)
Author: Alessia