operator please - gloves | AAA Music
aaamusic | On 04, Jun 2010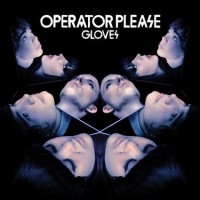 Operator Please come back after three years from debut album and one year after Sarah Gardiner quit the band. So what better time for a change of look and sound.
Abandoned the primary coloured punk of the debut single It's Just A Song About Ping Pong, they are back to prove they aren't one hit wonders with their sophomore album Gloves. Since 2007 the band have grown up considerably, and their sound has grown up with them embracing the electro – crossover that seems to be the dominating sound of the past two years, customized with their typical jangling guitars. Their work are influenced by a lot of different, but complementary sounds and artist: the first element are 'the 80s', as we said before, in the past two years musicians have re –discovered sounds of that period, in particular resuming and updating those old synths that echoed very 80's to our ears. Then from those years we can select some bands that you can find somehow in Gloves, for example Go Go's vocals, Devo electro- sound, a touch of Madonna Desperately – Seeking -Susan – period, some of The Bangles, but they took inspirations also from present bands like Gossip. Its' the case of the opening track Catapult, featured by a powerful bass line and a catchy guitar riff, supported by those famous synths. Just Kiss follows the direction of the easy listening tune supported by walls of synths and huge shouty choirs. Logic, the first single, changed style and goes towards a darker Bananarama style creating a punk-disco hybrid. Oh my explores territories of a pop-new wave with its softer melody, the singer vocals are a sweet caress on sounds that could be come out from a videogame. Second single Back and Forth relies on a wall of synths supported by disco drums and a wonderful electro bass line, Wilkinson sounds more than a little Gwen Stefani in her No Doubt period which should assure the album commercial success. Volcanic is perhaps the closest thing to their first album, returning to a punk-pop style sustained by a strong hand-clapping and a huge chorus.
Loops comes back into 80's territories with its whirring bass line and hard-beating drums, as Jealous uses Cyndi Lauper's 'Girls Just Want to Have Fun' as its template. Losing Patience and Like magic close the album with no original or different contributes, the first takes back the punk-pop style, while the last song would be a believable soundtrack for the Goonies or such things.
It is great that they pay tribute to the 80s, but they need to be careful to not exaggerating with the sound and risking repetition and something done in the past. This said, it is a great album.
Author: Roberta Capuano