The Lost Cavalry Debut EP
aaamusic | On 04, Jun 2010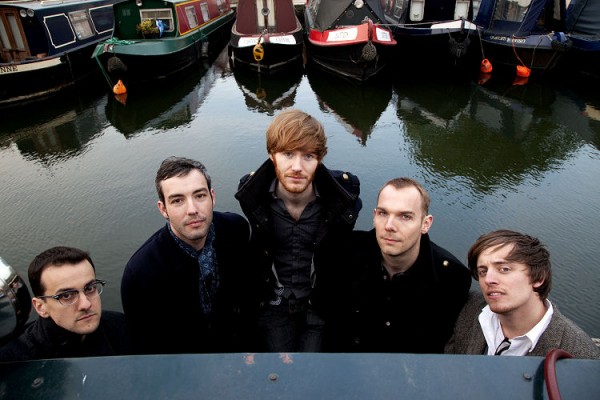 The Lost Cavalry are a London-based alternative folk band formed in 2009 by vocalist Mark West, formerly the guitarist of Fanfarlo.  Their debut EP 'Waves Freeze To Rolling Hills' is released on August 2nd 2010 on their own label 'Two Six Heave' and will be available on CD and digital download.
The magical land created by The Lost Cavalry harps back to idyllic, childhood tales of adventure and fantasy. The wonderful array of instruments makes an interesting music box of shanties, with the imagination and talent to turn these stories into beautiful songs.
They formed quite by accident, as the circus was packing up. The sun was setting, a few children were kicking a ball about, there was a great hubbub in the air.
Five people found themselves standing by a wooden shack surrounded by boxes. From these, Mark took a ukulele and concertina and sang. Nick took a guitar, Toby took a glock and a melodica, Oliver took a bass and Dave improvised drums from the crates in which they'd found the instruments.
Pleased with this discovery, they left the shack and invited all those in the woods to hear them play. Someone built a treehouse, it doesn't matter who. They played up in that treehouse for some two, three hours, to rapt silence and tremendous applause.
The songs were all stories. If you place the songs end to end they form a novel, which you can read in any order. Tales of elephants returning to life, of ghostly soldiers marching down midnight streets, of boats setting sail to lost islands…
You can catch them telling their stories here:
Monday 7th June – Balcony TV Show, Camden – London
Thursday 10th June – Organ Art, Harvest Café and Gallery, Kensal Rise – London
Saturday 3rd July – Blythe Hill Fields Festival, Lewisham – London
Friday 9th July – Club No Fiction, Powers Bar w/ Don't Wait Animate, Kilburn – London
Monday 2nd August – EP launch to be announced
Friday 6th August – The Lexington, Kings Cross – London
Thursday 12th August – The Lock Tavern w/ Ezra Furman of The Harpoons, Camden – London
Saturday 14th August – LeeFest (acoustic Show for Wonderland) Bromley – London