Willie Nelson & Asleep at The Wheel – Willie & The Wheel
aaamusic | On 06, Jun 2010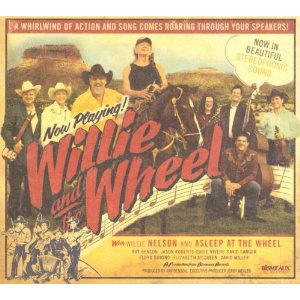 It is always risky when you are a legendary musician decides to release a western, swing, jazzy record. But the simple fact that it took around 30 years for the album to see the light captures attention. Then the music convinces you that good music, forget the genre, it's never out of time.
The sound is lively, the horns and jazz guitar enhance Willie's laid back voice. With a handful of good tracks, such as Hesitation Blues – with the brass –band carnival, and the stunning Bring It On Down To My House, Honey – a great example of how to bring the sound alive.
Perhaps too polished in the way it has been refined, it may lack of "mistakes" – intended in a good way – which experience makes you avoid, but that sometimes can bring a bit of sparkle all over.
All in all, this is the perfect example of what happens when a bunch of really good musicians gather together and let the creativity stream flow.
Author: James