Little Axe – Bought For a Dollar, Sold For a Dime
aaamusic | On 06, Jun 2010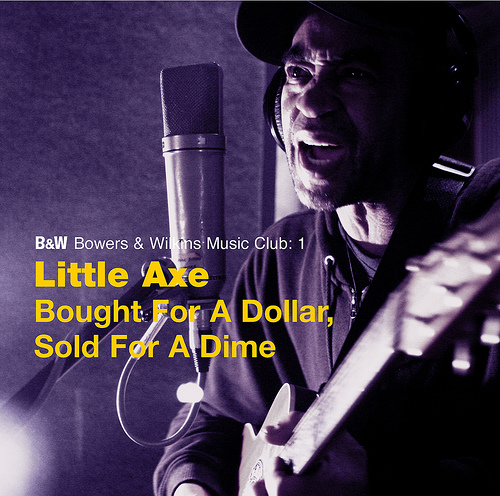 An old school bluesman in the tradition of everyone from Howling Wolf and Leadbelly to Blind Willie Johnson, McDonald channels the past into the future through his internationally regarded project, Little Axe. Founded in the early 1990s, with five acclaimed albums to their credit (three for Real World), Little Axe are redefining the blues for the current generation.
After a series of studio-based, effects-laden albums, they have returned to their roots on Bought For a Dollar, Sold For a Dime, produced by the British dub maestro Adrian Sherwood.
The album has many guest, such as Keith LeBlanc and Doug Wimbish to name a few, from his Sugarhill and Tackhead days, as well as another former Tackhead, Bernard Fowler attendant here on vocal duties. And then there is Ken Booth and The Crispy Horns. There is also Alan Glen (who had appeared on 2002's offering "Hard Grind") blowing a lonesome harmonica and, of course, the "dub maestro" himself at the controls.
The album kicks off with a touching gospel choir intro, Guide my feet seems the starting of a journey toward a given direction, while Soul of a man shows the deep blues and soul roots of an old school bluesman like Mc Donald. Grinning is one of the four tunes reworking of the outfit's earlier material, together with Hammerhead, Return and Too Late. When he touches his guitar seems like a god and this tune echoes of Billie Whiters' atmospheres.
In Take a stroll the starring instrument is harmonica that gives a folk and country taste to the tune well supported by a perfect blues harp- guitar, the same that you can find in Hands Off, another little jewel lasting only 50 seconds. Can't sleep is supported by the anguished voice of Ken Booth, and in my opinion is the best track. It's a wailing singing describing insomnia with all its consequences, every single pinch to the guitar chords is a stab to a bloody heart, it's really intense.
Hammerhead evokes spiritual atmospheres with its nonstop repeated refrain, and it's made stronger by harmonic and gospel chorus.
Can't stop walking yet has a vibe reminding the Curtis Mayfield of Superfly, while Hear me cry possesses an undeniable ache and mixes blues with funk blended to a touch of dub reggae.

Too late follows the same style going towards the heartrending singing, Little Axe's vocals have something of dramatics and painful, but not unhopeful, they are strong and angry.
Another friend gone starts with a wonderful harp guitar supported by percussions and choirs, it's sung by the impassioned vocalist Saranella Bell, following a reggae rhythm that makes me think of Jamaica.
Tell me why encapsulates elements of dub reggae and world music, launches into an moving African singing, whose melancholy is well supported by trumpets and measured percussions.
Return belongs to the old material, it's a good track carried away by harmonic while When The Sun Goes Down pays tribute to R&B balladry, it closes the circle tying up with the atmosphere of the first track.
Little Axe said that he felt young when he recorded the album, and I believe it, he rubbed up a much-loved genre with fourteen tracks that cut to the heart.
Author: Roberta Capuano