richard hawley - false lights from the land ep | AAA Music
aaamusic | On 06, Jun 2010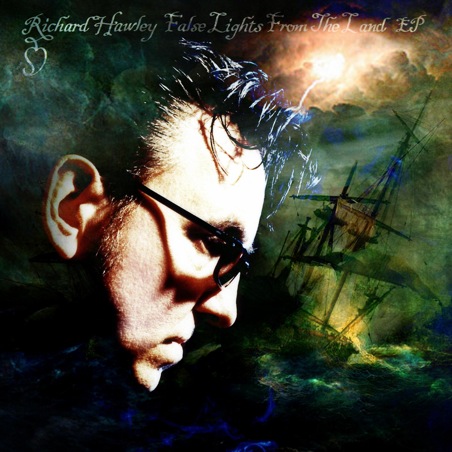 The ocean, with the deep blue water, waves and the magical underworld hiding beneath it has always attracted artists. It may be the sense of calm before a storm, it may be the sense of impotence we feel towards its power, capable of creating new landscapes but also destroying everything on its path.
My personal feelings towards it are a mixture between fear and calm. I love to stare at it on a winter day, the waves crashing into the sea, nature reminding to us all that she's the lady in charge.
Unfortunately I am not listening to False Lights From The Land on a winter day, but nevertheless it touches me, its warm, sad atmospheres comforted my soul.
Remorse Code, taken from the much loved Truelove's Gutter, has a beautiful intro, which melts with Richard Hawley's warm and mellow voice. Before I know my mind starts travelling at a different speed, visualizing all the good memories by the sea that I collected during my teen years, the laughs during the summer and the most beautiful day of my life with two of my then closest friends: it was winter, cold, grey, everything was perfect, with that sad yet sweet flavour which usually accompany things that are not meant to last, the glimpse of happiness that we all desperately look for and very few will ever find.
The almost 10 minutes track are by no means excessive: Hawley's vocals , together with the beautiful, simple yet structured melody section, caress you gently, a balsam for your sore heart.
Shallow Brown, featuring The Smoke Fairies, is a shanty West Indian chant, with great gospel chorus. No instrumental part in this mesmerizing track, their vocals are so angelic and perfect that any instrumental part would be just unnecessary. This breathtaking a cappella treat is just pure beauty, music descending from heaven.
Another pearl of the EP is the cover of the traditional chant The Ellan Vannin Tragedy, with its great acoustic guitar and violin enhancing Hawley's vocals. The gospel chorus, performed by The Smoke Fairies, give to it a touch of gentleness, emphasizing all the tragedy of the story, bringing to life all the emotions that those on the ship and their close ones must have felt at the time.
Closing track is the previously unreleased There's A Storm A Comin': beautiful piano session, cello, violin, acoustic guitar, Hawley's perfect vocals create the perfect closing track of this journey on the sea. Thankfully this piece of art has been now released for us avid fans to enjoy and sink into it.
The beauty of this EP, as for everything Hawley's does, lays pretty much on his capability to give beauty and dignity to every note he sings, as if that were the most important part of the song. His warm and reassuring vocals could sing of the apocalypse and make it sound something nice and not frightening at all. He is also an incredibly talented musician, so are the band who contribute to create perfect worlds where to rest your weary bones after a bad day. I cannot help but fall in love with him every time I listen to him, and this EP is no exception. Beautiful, incredible treat Hawley gives to us and the world.
Author: Alessia