EDEI New Single & Tour Dates Announced!
aaamusic | On 09, Jun 2010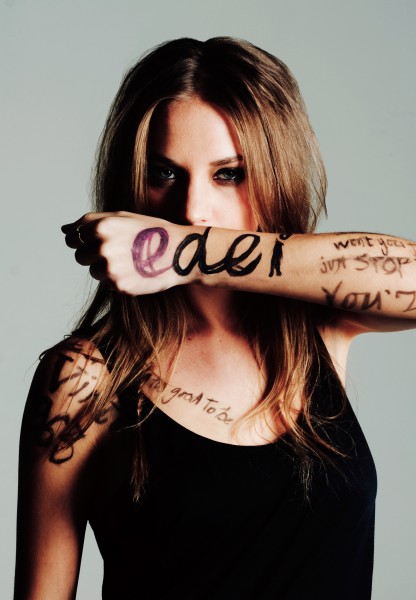 21-year-old Londoner Edei is set to release her debut single 'In My Bed' through Alma Recordings on 12th July. With her effortlessly cool vocals, refreshingly independent spirit and sweetly soulful vibe, Edei is all set to become one of the freshest new arrivals to the UK music scene of 2010.
Inspired by the pop soul of legends such as Michael Jackson and pop artists who can "really sing" like Christina Aguilera and Justin Timberlake, it was an introduction to the team who discovered and developed Joss Stone that helped cement Edei's musical direction and she has spent the last two years developing her musical style and performance skills. That learning curve spiked sharply last year when she had the opportunity to support the UK's leading girl band Girls Aloud on a 36 date arena tour –it was an opportunity she took hold of with relish, describing it as "the best two months of my life".
Edei is currently in the studio putting the finishing touches on her debut album, which is scheduled for release this autumn on new indie label Alma Recordings. The single and album are produced by Boston born, Dublin based producer Misreid and co written with Misreid and lauded singer songwriter Conner Reeves (whose writing credits include songs for Joss Stone, Ava Leigh, Tina Turner and Westlife).
Working with a female producer was something that appealed to Edei and she and Misreid got on like a house on fire from the off. Misreid helped to crystalise her unique sound – a mixture of pop, funk and soul and introduced her to other musicians who have collaborated on the album including Mary J Blige's backing singers, and Alicia Keys' brass section. Mixing credits on the album include Tom Elmhirst, among whose previous credits are Amy Winehouse's classic 'Back To Black' and Adele's 'Chasing Pavements'.
The remix package of 'In My Bed' recently crashed straight into the Top 10 of the influential Upfront Club Chart, with remixes by Dave Aude, Almighty and Full Intention making it one of the hottest dance floor fillers around.
Edei plays the following live dates in June: –
Mon 21st June – Upstairs at The Garage
Thurs 24th June – Charlotte Street Blues
'In My Bed' is released July 12th on Alma Recordings. Edei's debut album, 'Inside Information' is set for release this autumn.
http://www.ticketweb.co.uk/user/?region=gb_london&query=detail&event=388624