enter shikari tour | AAA Music
aaamusic | On 10, Jun 2010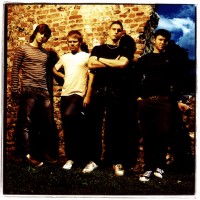 For no real reason other than the fun of it, Enter Shikari are filling some gaps in their already hectic schedule with a handful of more 'intimate' dates.
Within three days of returning from the gruelling Warped Tour in the USA, the band headline the small (but perfectly formed) Redfest festival in Redhill, Surrey as a warm-up for their slot on The Prodigy's massive Milton Keynes Bowl show the following day. They then 'warm down' from that performance with a London show at the tiny (in comparison to the Hammersmith Apollo, which was scene of their last London headline show back in February) Camden Underworld.
The Camden show will be filmed / recorded (in some form or another) for a release (of some form or another) later in the year.
The band are currently chewing over ideas to make this show a little different to the usual. All will be revealed nearer the time.
In August, Enter Shikari find themselves in Preston and Bath for a pair of shows. The Preston show acts as a *sort of* make-up show for the cancelled Blackpool show back in Feb, and the Bath show for no other reason than that's where the band's booking agent lives so we can all go and make a mess of his house afterwards.
Tickets for London, Bath & Preston are on sale this coming Monday (14th June).
London tickets are ONLY available via www.entershikari.com.
Preston & Bath tickets are on general sale through all the usual suspects (AND www.entershikari.com of course).
Support for Preston & Bath will be the marvellous The King Blues.
The band enter the studio for a couple of days next week to record a brand new track that may (or may not) be released sometime during summer too.  But that's another story…
Enter Shikari's complete UK live commitments, as they stand so far, now look like this –
JULY
FRIDAY 23 – REDFEST (headline) – Redhill, Surrey
SATURDAY 24 – MILTON KEYNES – Bowl (with The Prodigy, Pendulum etc)
MONDAY 26 – LONDON – Camden Underworld
AUGUST
WEDNESDAY 18 – PRESTON – 53 Degrees (+ The King Blues)
THURSDAY 19 –  BATH – Pavillion (+ The King Blues)
FRIDAY 27 – LEEDS FESTIVAL (NME/Radio One Stage) – Leeds
SATURDAY 28 – READING FESTIVAL  (NME/Radio One Stage) – Reading
Ticket links for all shows (with exception of Reading / Leeds, which is all sold out) can be sound at www.entershikari.com/gigs