Adam Freeland First Solo Release!
aaamusic | On 11, Jun 2010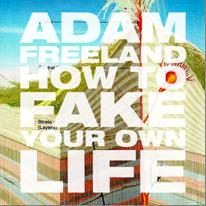 How To Fake Your Own life is the first Adam Freeland solo release since the Hate EP and his first release since his band's  'COPE™' album last year.
 With this release Freeland shifts his focus from the songwriting and live band to more of an electronic big room devastating sound. With layers of building sounds and live drums together with the massive vocoder vocal riff, the song is organic and timeless, and would go down a treat at 4am at Fabric Room 1 on a Friday night.
 Freeland gave the parts of the track to Étienne de Crécy before he had finished mixing the original, and Étienne beat him to it!  Taking this absolutely huge riff from the original and adding his own squiggly analogue synths and an arrangement that has been tried and tested in Freeland and Etienne's recents sets, we can confirm this mix tears big rooms apart.
 After his recent remix for Joker, as well as being featured on Fabric's 'Elevator Music' compilation,  and a forthcoming EP on Plastician's Terrorhythm label as well as various remixes due in 2010 including Foreign Beggars, Pure Phase, Kidkanevil, and Take (Alpha Pup/Eat Concrete), rising producer Om Unit turns in a great mix. With 90s keys and futuristic off kilter dubstep beats, he somehow manages to turn the vocal into a spacey prog rock guitar solo (in a good way)!
 Adam has just been nominated in the best 'Indie Dance Artist' category in the Beatport Music Awards, and has a packed touring schedule for taking in many festivals this summer.