Hungry Kids of Hungary London Tour Dates Unveiled!
aaamusic | On 11, Jun 2010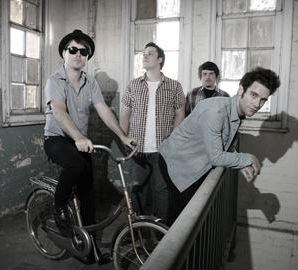 Hailing from Brisbane, Australia, Hungry Kids of Hungary will make their second jaunt to the UK in as many months, returning for a showcase event Musexpo Europe and a series of their own shows.
HKoH recently made waves in Brighton as part of The Great Escape festival where they walked away from a pair of stunning sets with pats on the back galore and a healthy dose of word of mouth that shouted the fact that you simply must see this band.
Single 'Scattered Diamonds' has received a healthy run of radio-plays in both the UK and the States since their recent visits. The song managed to snare XFM's Exposure Record of the Week on John Kennedy's show, while across the globe, stations like KROQ and KCRW are spinning the band with the latter's Nic Harcourt enthusiastically declaring "They sound like the Zombies shagging Squeeze."
Back home, the band's latest single (and first to be lifted from a forthcoming debut album) 'Wristwatch' has been smashing the airwaves becoming one of the most played independent tracks on Australian radio while those stuck to the small screen will have heard their music in Grey's Anatomy, Cougar Town, The Deep End and Royal Pains.
 Tour dates:
 Tuesday June 15
The Borderline, London – 4pm – Musexpo Europe Showcase
Wednesday June 16
Barfly, Camden – 8pm
Thursday June 17
Vibe Bar, London – 9pm – Brick Lane Take Over