Elizabeth Cook – Welder
aaamusic | On 13, Jun 2010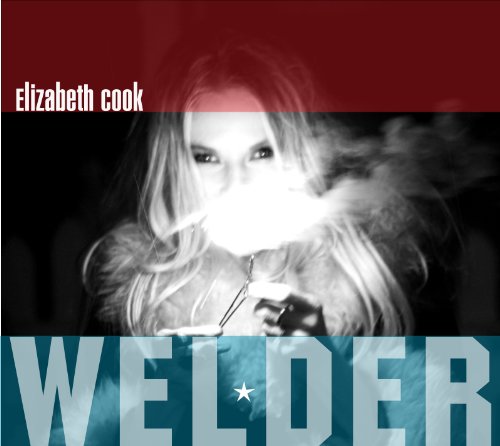 Country music tastes of America, it's a fact. And you can feel the atmospheres of Southern States in Elizabeth Cook's fifth album, even if she comes from Florida, a place not often associated to farmers' work, straw, pipes and rocking chairs.
Working with producer Don Was, Cook enlists not only the heady likes of Buddy Miller, Dwight Yoakam and Rodney Crowell for vocal support but also the Carol Lee Singers, the venerable chorus from the Grand Ole Opry, the institution that embraced Cook when Nashville's Music Row wouldn't.
Welder ranges stylistically from acoustic barnyard romps of All the Time,  to bluesy Southern rockers of El Camino to a torchy ballad like Not California that features acoustic guitar from Gary Maurer of the Americana chamber group Hem.
Heroin addict sister is a beautiful acoustic lament for a junkie ex-stripper who's been married five times and likes to crochet while Yes to booty is a great honky-tonk tune about drinking and having sex, supported by a funny chorus of men.
Blackland farmer is a cover of Frankie Miller's hillbilly-gospel tune and then there's Girlfriend Tonight. This is a tune that at first resembles everything that's big on country radio right now, until you realize just how better at it Cook is than anyone else.
Influences by Blondie in Rock n roll man, written for his husband, who plays guitars in this blues-rock track.
As in the good country tradition, songs talk about life and sorrows, so Mama'a funeral tells Cook's mother funeral, it's struggling and intense, supported by amazing backing vocals.
I'm beginning to forget is a wailing ballad, written by Elizabeth's mother, in which Elizabeth shows all her  beautiful melancholy vocals.
Snake in the bed is the typical tune that you can dance in a little village's feast, the sound of strings recalls cowboy hats and a saloon brawl.
There's also I'll Never Know, a country-soul weeper with Dwight Yoakam, and the acoustic Til then closes the album leaving the listener with a lump in his throat, the guitar riff embellishes the tune giving a sprinkle of anger.
Elizabeth Cook consolidate her career with this work that confirms her qualities of singer and song-writer giving prestige to a niche-genre as country, that often is underestimated, but offers to audience lots of great singers and musicians.
Author: Roberta Capuano