Legendary Shack Shakers – UK tour dates announced for July
aaamusic | On 14, Jun 2010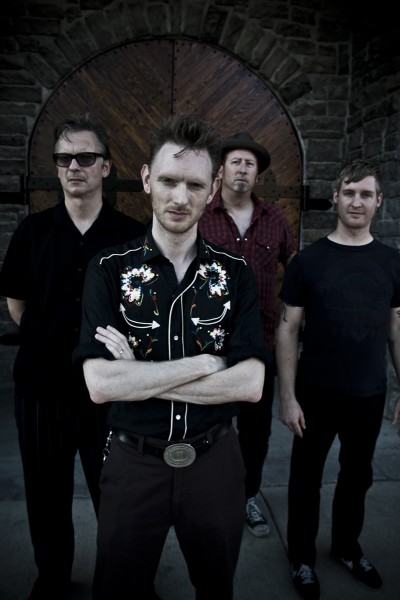 Picture it: the rustic grind of rural America. The cacophonous crunch and wheeze of motor-driven rock songs accompany the sound of corroded farm implements awakened to service once again. The soundtrack of a time when strip malls will choke with ivy and the vestiges of overdevelopment will be razed and plowed up for acreage. The Legendary Shack Shakers confront an America that is in decay on their seventh full-length album, AGRIDUSTRIAL.
AGRIDUSTRIAL is the statement of an American band fighting back against a society gone mad with greed and the usurpation of basic human dignities. The southern ethos is set on high, as the band explores the stories and values of those that have trod the path from our agrarian past, as testimony to those that will have to live it again. There are songs that praise Jesus ("Sin Eater") and southern-fried provocateurs ("Dixie Iron Fist"). "Hoboes Are My Heroes" is borne from singer J.D. Wilkes' recent experience of riding the rails to meet the men that are living on the fringes of America, as well as to absorb the rustic rhythm of that life. "Night Ride" recounts the history of Kentucky's infamous vigilante farmer's union, the Night Riders, who wreaked havoc on non-union tobacco farms in the early 1900's. Time and again, the band looks at their recession-ravaged homeland with a mix of love, anger and prescience.
Even the sound of AGRIDUSTRIAL is a direct response to the present day recession in foreshadowing the looming collapse that awaits to return us back to self-sufficiency. The band went to a blacksmith forge and recorded the sounds of hammers, anvils, tongs, cranks and chains for much of the percussion on the album. Bassist Mark Robertson produced the album, doing a tasteful job of marrying the band's hard driving rock sound with these organic flourishes. Also key to the band's sound is the ferocious guitar work of new member Duane Denison, who is fresh off the triumphant Jesus Lizard 2009 world tour. In addition to being a member of the Legendary Shack Shakers, Duane is a member of the Jesus Lizard and Tomahawk. The Legendary Shack Shakers had already earned high praise as one of the best live acts around, with both Jello Biafra and Hank Williams III calling, J.D. Wilkes "the best front man in the world." Robertson combines with drummer Brett Whitacre to form the Shack Shakers thundering rhythm section. It's been said many times, but probably never so sincerely; this is a band that you must not miss live.
Catch The Legendary Shack Shakers on the following dates;

July
12th – Glasgow, King Tuts
13th – Sheffield, The Boardwalk
15th – Newcastle, The Cluny
17th – London, The Garage
19th – Brighton, Komedia
www.myspace.com/legendaryshackshakers
www.theshackshakers.com