The Gaslight Anthem – American Slang
aaamusic | On 15, Jun 2010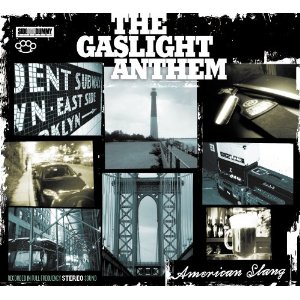 If there is one thing that gladdens my heart more than the post-school coffee and New York Dolls ritual I've cultivated, it is coming home to find a new CD by The Gaslight Anthem enthroned upon a pile of upstairs' esoteric post collection. So putting aside my caffeine dependence, I sat myself down and listened to some American Slang.
My immediate reaction was of mild bemusement as yes, they have modified their sound, putting aside the bare-faced Springsteen-isms. They've served their time under The Boss, and they're ready to become their own band, not simply become middle management. "Those days are gone and you should just let 'em go," Brian Fallon sings on 'Old Haunts', and growing up and moving on appears to be a theme. The yearning for the good old days has shuffled aside to make room for reflection and the passage of time, and with this is ushered in a new, braver exploration of sound.
The opener/title track, 'American Slang', is as much of an exhilarating rock anthem as you'd expect from this band, exploding from the speakers with all the passion supporting a new breath of musicality as they stray from simple yet deftly-executed chords to full and flourishing riffs from all sonic corners, backed by the study rhythms of Ben Horowitz. However the core of the music remains intact: an earnest bleeding-heart version of Social Distortion that you could take home to meet your parents.
Later tracks such as 'Diamond Street Choir' and 'Stay Lucky' alter the tried and tested formula and it is this that may throw some listeners. Admittedly, the finger-clicks and who-who-who/woah-woah-woah on the former give the song a slightly bubblegum rock sound that stifles the band's trademark honesty that is still present here, and the latter, despite having a sleek and fun sound consisting of a new almost interweaving-melody guitar sound and a strong old-times dance feel to it, is somehow awkward in sound, and it is flaws such as this that cast doubt over whether this album attains the perfection attained by The Gaslight Anthem's earlier releases. But surprise gems such as 'Boxer' with its delightful intro and addictive bass/guitar/vocal interplay in rhythm and sound confirms that these expeditions into the foreboding realms of New Sound can and do prove successful, and 'Orphans' is as lifting as you could ever hope for. Couple this with the beautiful, heart-wrenching 'Old Haunts', and this album sits proudly among the better new things I've heard in 2010.
'American Slang' may not win many new fans, and it may be this uneven foray into independence from their safe influences that has caused mixed reviews. However those already following The Gaslight Anthem are sure to feel rewarded and most likely delighted by the new depth and maturity on offer here. It is far from easy to be grown up in a punk rock world, but I think that these talented guys are doing just fine and if I had to choose, they would take priority over coffee any day of the week, and that is not praise I give lightly.
Author: Katie H-Halinski