The Like: New Album On The Way & Tour Dates Unveiled
aaamusic | On 05, Jul 2010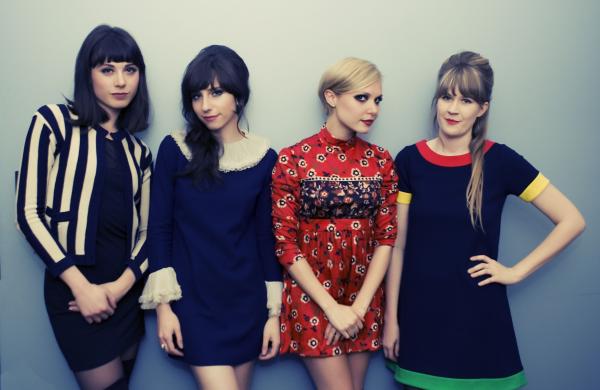 Finding an exquisite balance between the 60's girl group and British Invasion sounds they adore, and a lyrical point of view that can only be described as impossibly modern, LA based quartet The Like have come into their own.
Their long awaited new album Release Me is the product of hard work, fortuitous new partnerships and great songs that reflect a long and winding period where the band has collectively been through it all and come out on the other side far stronger for the experience.
Produced by Mark Ronson (Amy Winehouse, Lily Allen, Robbie Williams) with additional production by Thomas Brenneck and Homer Steinweiss (of The Dap Kings), and Alex Greenwald (Phantom Planet), Release Me crackles and pops with girlgroup sass. Tracks like He's Not A Boy – released as the first single on 31st May – and Don't Make a Sound somehow find the place where the edge of the Animals and the heartbreak of the Shangri-Las meet and are infused with an edgy, clear-eyed romanticism that are irresistible.
At the band's core is the partnership between founding members Z Berg (lead vocals, guitar and main songwriting duties) and Tennessee Thomas (drums) who formed the all-girl band when they were 15. While Z and Tennessee are understandably thrilled with Release Me, they're also ecstatic about the two newest members of the band, Laena Geronimo (bass) and Annie Monroe (organ).  "We never intended to be a girl band," says Tennessee. "But we became rather pleased about it eventually," she says with a laugh.
Releasing three EP's, which they sold at shows and on their website, the band quickly formed a rabid fan base and garnered immediate media coverage, which got them a record deal at Geffen Records. In 2006, they released their debut album Are You Thinking What I'm Thinking to critical acclaim, and toured worldwide, playing Coachella, the Wireless Festival, and opening for bands such as Muse and Kings of Leon.
Following up their debut album is where things got a bit mad. The band recorded a follow up in 2007, but it was clear that something wasn't working, and shelved it. It was in that space of uncertainty that the band found some much needed good fortune. Tennessee recalls, "When things were crazy with the band, I ran away to England for a week, and the first night I was there I ran into (producer) Mark Ronson." This run in led to Mark offering to record The Like's album, which transformed the band. Z explains, "What Mark did was systematically take the songs right back to their original form. We spent almost 48 hours straight with Mark arranging the songs properly before we went into the studio, and then we recorded them live to half-inch tape with one mic on the drums – which is terrifying, but after recording that way, I truly believe there's no other way to record." Tennessee adds, "Before Mark, we recorded everything nitpicky and perfect, track by track. But on those great 60's records, the mistakes were some of the best parts of it. It was chaos most of the time – but it absolutely brought us together as a band. We recorded for six days with Mark – and we got nine songs. Then we did four days with Alex Greenwald and the Dap-Kings. It was miraculous and we became far more confident as a band."
You can hear that confidence in seemingly every note of Release Me. The album's title track, Release Me, shimmers with a melody that's like a glorious summer day, but the yearning of the lyric and the minor chords in the bridge create a mood of frustrated romanticism that, well, can't help but remind one of the way John Lennon's edge curbed Paul McCartney's sunniness to make both far more resonant. Narcissus In A Red Dress throbs with a sense of warning and betrayal in the arena of love, a topic that Release Me deals with in full. "We all had our hearts broken while we were making this record," says Tennessee, but somehow that heartbreak shimmers, as in the gorgeous In The End, where Tennessee' s driving and propulsive beat and Z's commanding yet elegant lead vocals (and gorgeous "oohs" and background vocals) create a three-minute slice of pop nirvana.
Fresh off their US tour with the Arctic Monkeys the band returned to the UK in May for a storming string of London dates and will return to the UK in September for a full UK tour. "We were home a lot the past few years," says Z, "and I'm excited to get out there." She continues with a grin, "We're a very different kind of band now, and it's a very different kind of show. One with infinitely more energy!" Indeed, Release Me heralds the arrival of a stronger, tighter, and more enthused band, one with a stronger and deeper sense of who they are, all of which comes out in their undeniable new music.
UK DATES
1st Sept           King Tuts                     Glasgow
2nd Sept            The Cluny                     Newcastle
3rd Sept            Ruby Lounge               Manchester
4th Sept            Plug                             Sheffield
5th Sept            Bodega                                   Nottingham
7th Sept            Clwb Ifor Bach              Cardiff http://www.ticketweb.co.uk/user/?region=gb_wales&query=detail&event=393287
8th Sept            The Rainbow                Birmingham
9th Sept            Start The Bus               Bristol
10th Sept           Jericho                         Oxford
11th Sept           Audio                           Brighton
13th Sept           Haymakers                   Cambridge
15th Sept           ICA                              London