Lucinda Belle becomes the first artist to release a song using 3D60 sound
aaamusic | On 13, Jul 2010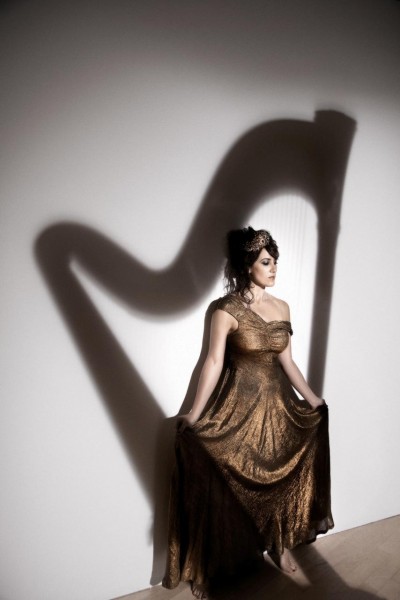 On Tuesday 13 July, 3D will make its audio debut when Lucinda Belle becomes the first artist to release a song using 3D60™ sound.
Once dismissed as a tiresome fad of the 60s and a gimmicky ploy of theme park attractions, 3D has undoubtedly experienced a phenomenal resurgence in the past 12 months. 3D theatrical releases including Avatar and Alice in Wonderland have smashed box-office records across the globe, while 3D-ready TVs have allowed the technology to make its mark in the home. Now finally, 3D has entered the world of music.
Firmly bringing the harp into the 21st century, Lucinda – the extraordinary jazz harpist, singer songwriter and Launderette owner, who shot to number 1 on the Amazon Hot Future Releases chart in March this year – will release her debut single 'Dodo Blues' using the new technology to offer her listeners a uniquely immersive widescreen music experience.  Differing from 5.1 surround sound, 3D60™ brings the music in front, behind, at different 'heights' and even from above or below.
Developed by The Jam's ex-sound engineer and music promo director Mike Brady, audio guru and musician Ian Thompson and internationally renowned producer Youth, The 3D60™ Process works on any headphones, on any playback format. Listening in 3D60™ takes music on from ordinary stereo into new dimensions of height and space, giving listeners unlimited spatial audio.
Mike Brady said: "Dodo Blues is a great track, featuring a beautiful vocal from Lucinda, and our 3D60™ mix places her right at the centre of the band with the various instruments' audio images almost 'visible' around her. The 3D60™ Process brings you a whole new way of hearing the song in 3 dimensions, with Lucinda's harp above your head, and the trombone and clarinet solos moving gently around you in the mix, plus really highlighting Lucinda's intimate voice and the great feel of her performance with the musicians in her band. We've developed 3D60™ especially for how we listen today – it's a new widescreen, three dimensional way of hearing music on your headphones. You're actually fully immersed in the music… it's the future really – way beyond good old stereo".
Youth said: "Working on Lucinda's track Dodo Blues was a real joy! Her personality, talent and classic English eccentricity shines through in her soulful performance. Hearing her voice in our 3D60™ environment is great fun".
Lucinda Bell said: "I'm so thrilled to be able to use this technology and give my listeners a whole new music experience. I wanted to recreate that unbeatable sensation of standing in an auditorium, listening to an orchestra in the height of an emotive performance. Dodo Blues now sounds as if the music is coming from all around you".
'Dodo Blue's' on 3D60™ will available to download from iTunes on Tuesday 13 July. Lucinda's debut album 'My Voice and My 45 Strings' is available now.