Mark Ronson & The Business International – Bang, Bang, Bang
aaamusic | On 13, Jul 2010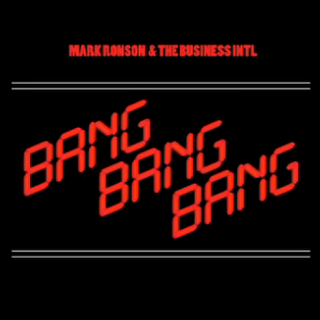 'Bang, Bang, Bang', the new single by Mark Ronson & The Business International is a phenomenally resounding triumph of style over substance. Shimmying an acoustic synth line simultaneously underneath and over some heavily processed vocals, as well as rapping from collaborator Q-Tip. Just in case you are wondering what is being said in the chorus, it is "je te plumerai la tête," roughly translating to "I will pluck your head" part of a French nursery rhyme. No, me neither.
Of course, there is an instrumental version of this track, allowing the listener an insight into what is in actual fact some enjoyable noodling on an analogue synth courtesy of MNDR. Given this reviewer's involvement in videogames and industrial music, the sound is rather appreciated, and the tune on offer, if stripped of its surreal and nauseating trappings, is a pretty decent pop melody, and catchier than airborne rabies. Even when all sensibilities scream otherwise, you will find yourself humming this, tapping the rhythm on anything within reach, and generally making a nuisance of yourself in a bid to replicate it.
But unfortunately, the whole affair merely comes off as Mark Ronson's producer-ego-masturbation, if you'll excuse my terminology. Everything is slick enough to rival BP (oh how topical) and while this effortless blending of components is indeed worthy of high praise, none of the elements seem like they belong on the same album, let alone the same track. I'm all for pushing sound and experimenting with new ideas, but this just comes across in the same way a powerpoint presentation does when the person who created it meticulously used every last transition and animation on offer. And the end result is that I found myself feeling bewilderingly seasick after listening to all three versions of the track.
Yes, there are some very good ingredients to this song, there's no denying that, but unfortunately they are swamped by an overwhelming aura of smugness.