Stagecoach – Crash My Ride EP
aaamusic | On 16, Jul 2010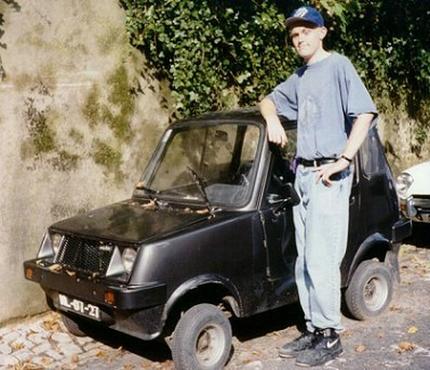 Well, what do we have here? No, really, what do we have? Because I'm not entirely sure. For all intents and purposes we have the new extended play, or EP,  'Crash My Ride' by Stagecoach. There are six songs on it. And I suppose that's a starting point.
The first ten seconds of opener 'Hieroglyphics' drags in a heavy guitar squall and mass of dense feedback that a Norwegian black metal band would be proud of. And then the brooding DOOM SOUNDS are shooed away, and replaced by a cheerful whooping that counts in the actual song. The actual song is a sunny piece of well-executed pop-punk that brings to mind early Weezer and The Coral. But the guitar sound isn't quite… normal for a pop punk style band. And yes, a little background research conforms that they did indeed start out as country rock, which explains the whooping and the twanging acoustic guitar feel.
'Axe Behind My Back' is a picture-perfect example of pop-punk, but only in the bipolar manner of Stagecoach. Pop is the folksy, cheerful, acoustic sections, and punk is where it sounds like the studio, well, got stormed by a UK punk band of the Sex Pistols persuasion.
'Good Great Better Best' channels Ash to an eerie degree, once again incredibly upbeat and including lyrical references to Star Wars. Even the instrument sounds and subtle melodic affectations are very Ash. But then, what's this? Two seconds of this phantom metal band bleed through the chorus. And again. Until by the end, it sounds more like two bands duelling than anything else.
And I suppose that's a reasonable summary of the whole EP. Quaint (but not quite twee) acoustic alt-pop jostles against some surprisingly savage distortion and shouting. The Coral vs Megadeth, singing about the lifestlye of the not-quite-down-and-out. Hardly suffering, but way too many lonely nights in front of heavy metal TV ('Headbanger's Ball) and feeling left out of the rest of the world, but retaining a healthy sense of humour to combat it. And the final track, 'Fish Tank Glow', reconciles the two themes in a charming sonic huddle as the lyrics speak of finding someone else just as directionless to share the beauty of being a little lost and living in the now.
The band themselves, if the adept sonic acrobatics didn't already imply, are most definitely very good at playing their instruments very well, and writing one hell of a song. If nothing else, check out 'Map To The Freezer', which wonderfully showcases the whole spectrum of ability on offer, and even has the acoustic country battling the metal as both guitars face off, all set to some ska-punk/metal drumming as it tells the story of, um… a failing relationship and a freezer full of pizza, all in an incredibly listenable package.
Next time you're not sure whether to spin Grandaddy or Metallica, may I suggest this as an enjoyable compromise? It's definitely worthy of a listen, and could easily become an underground hit, with the definite potential to spread even further.
Author: Katie H-Halinski