John Cunningham – 1998-2002 Homeless House/Happy-Go-Unlucky
aaamusic | On 18, Jul 2010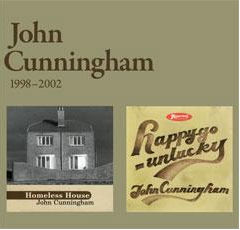 Sometimes, angst just doesn't cut it. For all the anger and screaming and life-isn't-fair shredding apart of your own mentality, life and the human mind never work as simply as feeling demonstratively angry. And that's where John Cunningham steps in, with his silky-smooth melancholy that seems to have been totally bypassed by the last few decades of music and their tendency to overemote. This release brings together his two albums 'Homeless House' and 'Happy-Go-Unlucky' into an 18-song collection that seems perfectly suited to one of those times after a breakup or a bad day where all you want to do is lie down and have something to listen to that sounds like the person(s) involved understand you.
'Public Information Song' starts things off as they aim to continue: a heavy-hearted Beatles-esque pop sound with beautifully warm and tuneful vocals and a tranquil yet unavoidable sense of sadness permeating every note. The song trails off into a smooth, mournful jazz horn-and-bass moment that prevents the song from growing too intense in an overt manner, instead choosing to express things musically, with no need for words. This fades into 'Imitation Time', another song of almost picturesque beauty, using the acoustic-weepie tone deftly, drawing out the poisons with sublime melody and a deep understanding of how to create mood in music, the heartfelt and rather poetic lyrics playing second fiddle to atmospherics and music.
The title track of 'Homeless House' is a fragile, bluesy pop number, with the instruments all echoing the delicate piano intro, which retains a sense of desolation despite the eventual full sound.
The overarching tone of 'Homeless House' means aspects can blend into one another, but these aspects are subtly wonderful. The drums are gentle yet firm, the horns powerful yet never overbearing, the bass warm, the vocals comforting and tender. And tracks such as 'What About Now', with its mesmerising acoustic guitar melody echoing constantly beneath broken-heart piano, vocals and trumpet, adds dimension and motion to the album. Some of the tracks feel overlong, but the mood crafted here cannot be rushed, it's a natural process that can only be bled out dreamlike a slowly. And so 'Infinity Is Ending' provides a tragic yet idyllic five-minute lullaby with echoing steel guitar and a sense of things slowly turning to dust, graceful and final.
But wait, this is after all two albums, and so next up we have the longer (ten – plus one bonus bringing it to 11 – songs) album, 'Happy-Go-Unlucky'. Just as a warning, unless you've just lost the love of your life, or feel really very blue, or are a fan of John Cunningham, embarking on all nineteen tracks is a little tricky given the heavy dose of melancholy. The opener, 'Losing Myself too' has noticeably clearer production, and a dancier rhythm to it, almost skipping, ruefully upbeat as opposed to the quiet sadness of the earlier album. There is also a generally grander feel to the album as a whole, with backing vocals and more instruments at the ready, but the heart of the sound established earlier is still very much present: a smooth commiseration. This is clear in 'Way To Go', where the opening lyric is "Trouble seems to follow me round wherever I go, waiting in the sodium lights, but it is my favourite shadow".  This is a slow-dance with misfortune, a moment of halcyon knowledge that it will all go wrong. Similar is 'You Shine', an upbeat love song to someone who does indeed brighten up the day despite misfortune and always wins over. The whimsical horn section and pitch-perfect backing vocals once again add a total change in tone without feeling out of place.
'Can't Get To This' includes some exciting string section vs guitar vs piano instrumental work, breaking the norm of the previous tracks to create some energetic interplay between the different instruments culminating in some frenzied electric wails on the guitar before sinking back into the acoustic calm of 'It Isn't Easy'.
'Take Your Time' is another successful exploration of music, an almost waltz-like track with a kind of dignity to its acoustic ballad trappings, and once again the sense of something ending sadly is very much evident.
However, as evidenced in 'Here It Is', there's a hazy sense of optimism, the cymbals brighter, the snares hop-skipping at points, the guitar clearer, the tunes on display that much more cheerful. If 'Homeless House' was the eve of a bad day, 'Happy-Go-Unlucky', as the title suggests, despite the continued bad luck, is more hopeful in tone and more than that, the music on offer has a lot more variation on the ever-present theme and sound.
Overall, these two albums are a beautiful exercise in writing pop without rock and worthy of a place in many record collections.
Author: Katie H-Halinski