Bill Kirchen – Word To The Wise
aaamusic | On 20, Jul 2010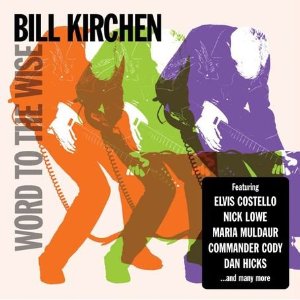 Bill Kirchen has been hailed as the original "Dieselbilly" guitarist, as a standout singer and songwriter, and as a pioneer of rock and roll honky-tonk with the band Commander Cody and his Lost Planet Airmen. Now Kirchen is headed for a breakout with his new album of all-star duets, 'Word to the Wise' (Proper).
Full of humour, Telecaster twang, and serving up heaping portions of rock and roll, country, boogie-woogie and Western swing, 'Word to the Wise' features duets with nearly a dozen guest artists he's met along the way (see track list below). It includes masterpieces old and new, such as Roger Miller's classic "Husbands and Wives," a new Dan Hicks/Bill Kirchen co-write (the title track, "Word to the Wise,") and Kirchen's powerful rocker, "Man in the Bottom of the Well," sung unforgettably by Elvis Costello.
Bump wood opens an album promising great surprises, and expectations are not disappointed: this tune is a classic rockabilly that makes me imagine that Jerry Lee Lewis is still alive, the piano player is simply amazing and makes slip his finger on the piano like his hands are soaped.
Shelley Winter's Love is a silent ballad that shows Bill's beautiful vocals, supported by the piano and a soft drum, while Man in the Bottom of the Well from the third minute let the guitar speak, sometimes some feelings can be well expressed only picking your finger on chords.
I don't work that cheap mixes blues with rockabilly always enriched by a magic touch of guitar and powerful piano solo, it recalls the psychedelic spirit of Dylan's "Subterranean Homesick Blues," concluding with the memorable line, "You can't pay me what I'm worth – I don't work that cheap."
Time will tell the story the guitar is is the star once again, only few lyrics that in this case make the backdrop to a magnificent arpeggio. In Husband and Wives Kirchen sings with nostalgia like an old story-teller, notes played by his guitar touch the heart supported by wonderful gospel choirs.
Open Range continues the journey towards country-blues, it's a ballad sung with deep voice and a glimmer of sadness, I can imagine a cowboy lost through the desert, accompanied by his horse and his guitar that this time sounds like Santana's.
Arkansas Diamond explores the deep country territories while the track that gives the title to the album is another joyful proof of Kirchen's bravura in playing guitar.
Ain't got time for the blues is a melancholy blues enriched by Maria Muldaur's great voice, and we can find one more guest on the closing track, an uptempo road song called Valley of the Moon there's a harmonica part by the late Norton Buffalo.
Word to the wise is a good album for rockabilly and blues lovers and I advise it to people who want to approach these beautiful genres, for sure it will be a very pleasant discovery.
Author: Roberta Capuano