Röyksopp Release teaser clip of 'Adventures in Barbieland' on YouTube
aaamusic | On 05, Aug 2010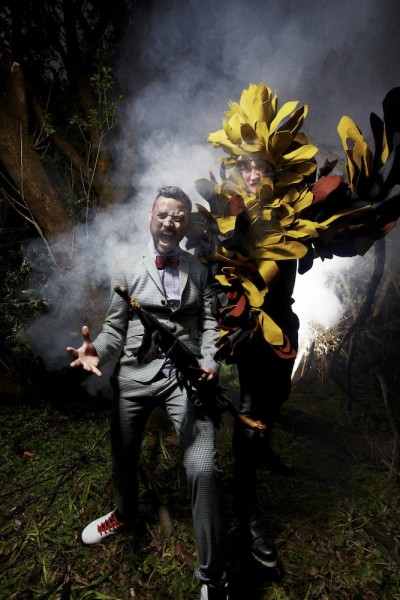 Röyksopp are set to release the counterpart to last year's critically acclaimed 'Junior' album on the 13th September 2010.
More introspective and freeform than its poppier partner and fully instrumental, the Nordic electronic pioneers Svein Berge and Torbjorn Brundtland recorded 'Senior' at the same time as 'Junior' and it finds Royksopp in fine form.
Royksopp explain: "The two albums ('Junior' and 'Senior') have a kinship, in that they represent Röyksopp's two very different artistic expressions. 'Junior' – with emphasis on vocals, accessible melodies and harmonies, has the energy, the inquisitive temper and confident "hey-ho, let's go!"-attitude of youth, whereas 'Senior' is the introverted, dwelling and sometimes graceful counterpart – brimfull with dark secrets and distorted memories, insisting "I'm old, I've got experince…".  Senior' is furthermore an album about age, horses and being subdued – with devils breathing down your neck."
'Senior' was written as a complete set of tracks, each designated to take a specific part in the bigger piece. All individual tracks have been made with the intent of coexisting with the other tracks on the album.
"Each track is equally as important as its predecessor and successor. We feel that none of the tracks should be regarded outside of this context, ie. separated from the rest of the album. Quite a "brave"/stupid thing to do in this day & age of iPods and cherrypicking, one might suggest. We couldn't agree more – hell that's even probably why we did it."
'Senior' is released on 13th September on Wall Of Sound. The album tracklisting is as follows:
1  …And The Forest Began To Sing
2  Tricky Two
3  The Alcoholic
4  Senior Living
5  The Drug
6  Forsaken Cowboy
7  The Fear
8  Coming Home
9  A Long, Long Way
60 -second preview of their brand new short-film/ EPK 'Adventures In Barbieland
Comprehensive guide to 'Senior' as written by Svein and Torbjorn
'All we ever wanted was to be touched by the gentle fingertips of Vangelis,' the men of Royksopp take a moment to spill their collective thoughts, 'but that is still to come.'
They have, however, sold over one million copies of their 2001 debut "Melody AM", won an MTV Europe Award for Best Video (for Remind Me), and toured the world. They've chased the success of their second album "The Understanding" (2005) with the live album "Royksopp's Night Out" (2006) and the compilation album "Back To Mine" (2007). So what's brewing next, gentlemen?
'Alchemy..' begins Berge, 'or at least the idea of what alchemy represents – the thought of turning less into more, has traditionally been a concept very much in tune of how we think. This time around though, black magic was set aside, and we had to turn to alternative means of refining.'
'Making this new album was like mining in the mountains,' says Brundtland. 'When you think of a mine you think of one that is already many kilometres deep, and people work inside it. But sometimes one has to start a new mine, so you start digging the crust of the earth. And we had to find a good spot to start digging.'
'The key,' notes Berge, 'is to feel very confident that this digging is starting from deep within. I think the concept here is something that's inside us.'
Is this a metaphor too far? It might be. Is "Junior", the third album from Royksopp, their best yet? It is.
One of the earliest songs written/excavated was the "Miss It So Much", which features Lykke Li. Berge and Brundtland decided to work with her 'before her album and the hype'. They liked her unique voice: 'it has a certain percussive element to it. It's normal to compare a voice to a violin or flute or trumpet. But hers is like, maybe, a marimba. Where others sing legato, she sings staccato – we admire that.'
'To us it's a song with a touch of fifties harmonies mixed with Lykke's enticing girlish voice on top of a driving, hectic bassline, all wrapped in some seventies' warmth. It's what we call retrosexual.' says Berge.
'It's a song about missing analogue in a digital world,' says Brundtland of this 'nostalgic' song.
There was more exploration on "Tricky Tricky" and "This Must Be It". Both songs are sung by Karin Dreijer Andersson of iconoclastic Swedish techno-art brother-sister duo "The Knife". She previously sang with Royksopp on "What Else Is There" (on "The Understanding"). 'Because the art and the craftmanship are two opposing poles, a struggle within a struggle', Torbjorn explains, 'we had to weed out any potential mental friction, and invite ferociousness to the table.'
Berge: '"Tricky Tricky" is a prime example of how well we work together. In the process of making this track, there was instinctively an understading of where we had to go and what we had to do. It's a case where borderline human beings join forces in a number that can be described as coke-fuelled anxiety.'
Brundtland: 'When Karin sings, she only sings words that she really likes. You can hear it in her diction: every word is meant.'
Berge: 'Another thing with Karin: She's not one of those people who need to have her voice just so with perfect tune, high-in-the-mix and overloaded with high-end frequencies etc. She's pleased if you mess up her voice a bit. If anything I believe she prefers it to be somewhat off.'
The end-result of this summit between two Norwegians and a Swede: The dark, building tension of "Tricky Tricky", and "This Must Be It" – a song that sounds the way 'Angelo Badalamenti would sound if he got lost in a Norwegian forest, but were rescued by Giorgio Moroder.'
Robyn, the Swedish pop maestro, fresh from supporting Madonna in Europe, is front and centre on The Girl And The Robot. 'One of the good things with Robyn, besides her wonderful persona and voice,' Berge says, 'is that although she is a big name, probably the biggest name we've worked with on our album, she's up for doing recordings with two shabby guys in a cupboard in Bergen. So, kudos to her.'
It's a brilliant, huge, melodramatic, technoperatic tune about a love affair between woman and android. It's moving, both for the head and the heart. 'There's a story in there and we needed to do something a bit deeper than 100 per cent lighthearted pop,' says Brundtland.
'It's dawning on me now,' says Berge, 'that when we were digging for songs we must have been digging east, 'cause in retrospect it's quite evident that there is a strong Swedish presence on this album – vocally at least.'
But there were gems closer to home too. Anneli Drecker, fellow Norwegian and long-time collaborator with Berge and Brundtland, who sang "Sparks" on "Melody AM" and tours with Royksopp, returns on three tracks, including the digital funk of "Vision One", heart tugger "You Don't Have A Clue" and slow-burner "True To Life".
'What Anneli brings to the table', says Berge 'is a huge chunk of heart and warmth. She understands what we want to communicate, and she'll challenge it, and ultimatley make it better. And although she's been with us for some time, she's still able to take us by surprise.'
And nor is "Junior" all about the vocalists. "Silver Cruiser" is not, as Berge whispers, 'about a 55 year old gay guy', but a 'future utopia, where technology is so advanced it's almost invisible. So it's almost like magic. And the sky is filled with shapes, and the biggest of them all is the Silver Cruiser.' Hence the song's 'calmness' and almost acoustic serenity.
Consider, too, the bold, retro-progressive "Royksopp Forever". Brundtland: 'a rather boasting song.' Berge: 'A moment of self-indulgence.' The sweeping, stately tune, rich with strings and synth twinkles, offers flashes of what Berge calls 'Royksopp's heritage: Seventies pioneering electronic music, a bit of Vangelis keyboard fetish. And obviously, the strings, the pompous grandeur – we are suckers for that. It has to have that larger-than-life element in it.'
You want more ecstasy? "Junior" has that too, in the shape of first single and album lead track "Happy Up Here", a pneumatic throwdown to set dancefloors and airwaves alight the world over. Berge: 'It's our little attempt to be part of ending the global depression Or it could be us excusing us from the global depression. Otherwise we'll all turn into blues musicians.'
"Happy Up Here" came late in the 'mining process, three miles deep in the mine. We hit something shiny and new ore came out.' says Brundtland. 'It has,' smiles Berge, 'a certain happy, uplifting 'YEAH WOW' factor – like the 8 first bars of Van Halen's "Jump" – but with less hair and spandex.'
'Junior is an outgoing and direct album' says Brundtland. 'It's the youthful part of Royksopp. We are young in bodies and old in heart. Or is it the other way? We have a certain schizophrenia – we want to make both energetic and really quiet music.'
Berge: 'People should be on look-out for the more quiet and introvert 'Senior' due out late 2009′
Brundtland: 'Yes, the concept of Junior will stand clearer after the release of Senior'
Berge: 'Some people ask, "why do you take so long?" Are we slightly demented? We do everything ourselves – making the music, writing it, playing the instruments, the recording and the engineering.'
Brundtland: 'We're not full of ourselves but it is a process of elimination. We want to make something that is utterly our own. That is why it takes so long.'
Berge: 'We also strive for longevity. A lasting quality in the music, so it stands the test of time. To make things immediate and long-lasting – that is the goal.'
Brundtland: 'That's quite a mouthful – I believe we are getting full of ourselves'
Berge: 'Well, I am full of myself. I might start wearing leather pants.'