THE WONDER YEARS announce UK release of 'The Upsides' with bonus tracks‏
aaamusic | On 13, Aug 2010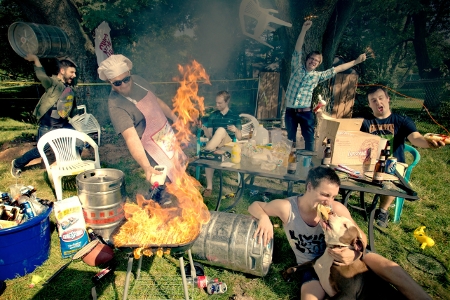 The Wonder Years have announced a full UK release of The Upsides , the band's restless diary of growing up, getting out and making the best of what you have. Arriving October 11 in stores and online everywhere, this re-imagined version of the original US edition of The Upsides not only has a new face to it… it also has 4 brand new tracks that we're sure you'll have on repeat. Wanna check out the CD? Watch as Soupy walks you through the new artwork
The Upsides is a record about hope. During the past year, The Wonder Years found themselves trudging through their early twenties alongside an army of downtrodden friends. It felt like sadness had become the status quo and that didn't sit well with them. On a bike ride around the fountain at Logan Circle in their hometown of Philadelphia on the first day of spring, the idea struck that this constant state of defeat was no way to live and out of that, The Upsides was born. Instead of a writing format derived from the ideas of one member, The Wonder Years built a record out of opposing influences, colossal arguments and gallons of sweat. In writing The Upsides, The Wonder Years have created a soundtrack for the hopeful.
In addition to the standard CD, Hopeless have created a very special limited edition fan pack that includes, yes, a Wonder Years lunchbox! Don't worry it's filled to the brim with everything you could possibly need… a Hopeless & Wonder Years button pack, a Wonder Years poster, a very necessary lunch lady shirt, and because we know you deserve it, a hand signed, and numbered suspension notice.
A full U.S. tour with Four Year Strong this fall awaits these soldiers of the road. They'll also be playing with pop-punkers New Found Glory Stateside later this month, before they head down under. UK touring plans are also in the works.
1. My Last Semester
2. Logan Circle
3. Everything I Own Fits In This Backpack
4. Dynamite Shovel
5. New Years With Carl Weathers
6. It's Never Sunny In Philadelphia
7. Hostels & Brothels
8. Melrose Diner
9. This Party Sucks
10. Hey Thanks
11. Washington Square Park
12. All My Friends Are In Bar Bands
13. I Was Scared and I'm Sorry
14. Dynamite Shovel (Campfire Version)
15. Logan Circle: A New Hope
16. We Won't Bury You