Tinie Tempah Announces Debut Album and 3rd Single
aaamusic | On 13, Aug 2010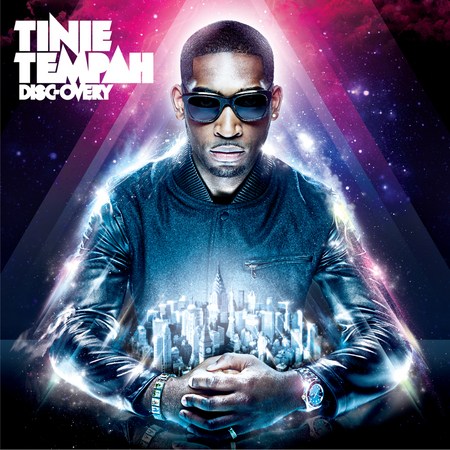 On the 4th October, the undisputed breakout star of 2010, Tinie Tempah will release his highly anticipated debut album, Disc-Overy.
Recorded over the last 11 months in North London, South London and Sweden, the album is a highly accomplished piece of work featuring an array of production that encompasses gritty grime, tempo-shifting drum and bass, and dark and brooding pop.
Already renowned for his daring musical choices, Pass Out is the single that not only put Tinie on the map, but also altered the path of UK urban music in 2010. Disc-Overy continues this adventurous attitude. "If you've heard Pass Out and Frisky and think you know what to expect, you're wrong," Tinie points out of the assorted array of production.
Simply Unstoppable underscores Tinie's grime roots, Swedish House Mafia have created an undeniable dancefloor anthem in the form of Miami 2 Ibiza, while Naughty Boy delivers a deliciously brooding pop number Let Go, featuring Emile Sande. One of Tinie's personal favourites, the laidback Snap talks about chronicling life photographically, including "My mum and dad's wedding picture, which is my favourite photo in the world", while Wonderman features Ellie Goulding and is produced by Labrinth. "I wanted this album to be really raw, not only in terms of the production but the guests. I was only interested in working with people I really respect and who I'm a fan of. I met Ellie very early on, we swapped numbers and after that we started living very parallel worlds; the same festivals, interviews and so on. It made total sense to have her on the album."
Tinie looks set for yet another smash with his forthcoming third single, Written In The Stars. Produced by Swedish powerhouse Ishi, the single is a euphoric feel good anthem that details the 21 year-old's past, present and future ambitions. Featuring the incredible vocals of Boston newcomer Eric Turner, the epic, synth-led single features crisp drums, razor-sharp guitars and a considered message delivered in Tinie's uniquely credible style. "I used to be the kid that no-one cared about, that's why you have to keep screaming 'till they hear you out," raps Tinie.
An incredibly confident debut, Disc-Overy certifies Tinie's absolute ability to achieve worldwide success. With Tinie already on the US radar thanks to remixes with Diddy and Snoop, Disc-Overy reasserts his global appeal by offering inventive production and a range of rhymes that are in turn frank and funny. The diverse and imaginative album features collaborations with Ellie Goulding, Kelly Rowland and Emile Sande with production from Labrinth (Pass Out, Frisky), newcomer Ishi, Al Shux (Jay-Z's Empire State Of Mind) and Naughty Boy (Chipmunk, Wiley), as well as renowned dance producers Swedish House Mafia.
In addition to highlighting the finer things in life that success can offer, Tinie details the lows of fame and fortune, as well as offering a candid insight into his childhood growing up in South London.
"On every single song you'll get a line that reveals what life was like for me. I recorded a lot of it after Pass Out went to No.1, so that gave me a chance to reflect on life before and after achieving success," says Tinie. "Going to No.1 gave me a chance to consider how far I've come, but also how far I intend to go."
Album tracklisting as follows:
Intro
Simply Unstoppable
Pass Out
Illusion
Just A Little (featuring Range)
Snap
Written In The Stars (featuring Eric Turner)
Frisky (featuring Labrinth)
Miami 2 Ibiza – Swedish House Mafia vs Tinie Tempah
Obsession
Invincible (featuring Kelly Rowland)
Wonderman (featuring Ellie Goulding)
Let Go (featuring Emeli Sande)
Check out the epic video here:
http://www.youtube.com/watch?v=YgFyi74DVjc