Diana Vickers Rescued by Superhero Rock Band, The Justice Force 5
aaamusic | On 18, Aug 2010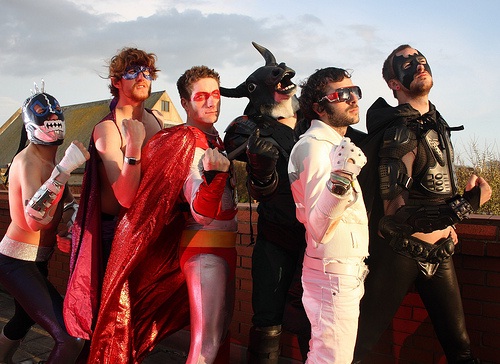 Is it a Bird? Is it a Plane? No it's pop star Diana Vickers being rescued from certain doom by a group of real life superhero rockers The Justice Force 5. She appears alongside these Brighton based vigilante musicians in a new video short in where she is kidnapped by dastardly super villain The Organ Grinder.
This group of guitar riff loving superheroes consisting of a half-man half-cow hybrid, a time travelling scientist, a Lucha Libre vampire, a black man trapped in a white man's body, a hard-as-nails dark knight vigilante and a gender confused, spandex clad alien produced the video in support of their recent double A-side single release "Fight the Fight" and "J.U.S.T.I.C.E Force Dance" through Xtra Mile Recordings.
The band who in their own words "Kick ass like Van Dam and Rock like Van Halen" managed to secure the pop stars services after blowing her away at one of their over the top live shows. Diana, who has now attended several of their gigs, firmly considers herself a Justice Force Fan.
Diana says "JF5 are wicked live, they're so different from any other band out there at the moment. It's very refreshing. Their live sets are so fun and exciting; they really know how to win a crowd over and keep them on the edge of their seats!"
Donning a sleek and sexy cat suit for her role as damsel in dress, Diana had a blast making the skit and hasn't ruled out appearing alongside the band again.
"I had so much fun and giggles filming the video. Who wouldn't love dressing up as a superhero for a day and being rescued?"
The video can be viewed here:

See them live:
9th Oct Lexapalooza Festival 2010 London, The East
30th Oct Justice Force 5 VS The Zombies @ The Brighton Concorde Brighton