InMe to release Best of on September 27th
aaamusic | On 18, Aug 2010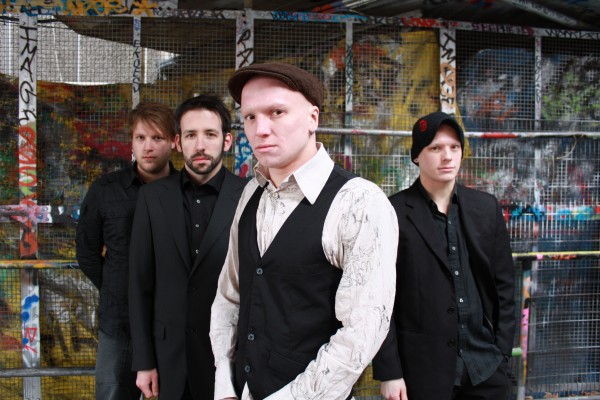 Since forming under the name Drowned in 1996 (they changed their name to InMe on signing to Music For Nations in 2001), InMe jettisoned from playing venues as small as the London Barfly to the much-missed London Astoria within an alarmingly short time, supported by the kind of dedicated fanbase that most bands can only dream of. Through four studio albums and endless tours they have suffered highs and lows but have always been stubbornly focused on progressing musically and the heavy, yet melodic technical layers of 2009's 'Herald Moth' album saw them hitting a peak in phase one of their career. Thus, now seems like the right time to asses that band's work so far with the September  27th release of 'Phoenix – The Best Of InMe' through Graphite Records.
"People worry that a 'Best Of' signals the end of a band but this merely feels like the beginning of a new chapter for us." explains frontman Dave McPherson. "With 'Phoenix' it was incredibly important for us as a band to choose the songs for the collection with no outside influence as we didn't want to just put out a run of the mill greatest hits album. We didn't necessarily choose the highest charting singles or most well known songs, we obviously chose some songs that have defined our career up until this point but also included the songs we're most passionate about. There are 3 brand new songs within the track listing entitled 'Saccharine Arcadia', 'Bury Me Deep Beneath Your Skin' & 'Thanks For Believing Me' which not only make the album more interesting & fresh for us but are also easily 3 of our best songs yet and are most certainly going to be the catalyst for a few sweaty bruises in the not too distant future!"
Tracklisting is as follows:
1. SAFE IN A ROOM
2. NOVA ARMADA
3. MYTHS & PHOTOGRAPHS
4. UNDERDOSE
5. BURY ME DEEP BENEATH YOUR SKIN
6. ALL TERRAIN VEHICLE
7. CRACKING THE WHIP
8. FIREFLY
9. THANKS FOR BELIEVING ME
10. SINGLE OF THE WEAK
11. CRUSHED LIKE FRUIT
12. THANKS FOR LEAVING ME
13. FASTER THE CHASE
14. CHAMBER
15. SACCHARINE ARCADIA
The band are also excited to be able to announce a very special tour in November and December that will see them play all four of their studio albums at the Relentless Garage in London, Islington, with four regional warm-up shows up and down the country.
"Regarding the shows where we will play all 4 albums in their entirety we really want to go back to the roots of all the songs and re-imagine them completely, continues Dave. "We're a different type of band these days and this gives us a chance to reinterpret our past whilst still celebrating where we've come from. People have been asking us to play certain songs for ages but for the last 5 years we've stuck to our guns & tried to move things forward but now the timing feels right. There has been an overwhelming anticipation about these shows which is very exciting for us & we aim to deliver but also surprise fans old and new. We're gonna smash the old songs like we never could before & the new tunes are going to challenge us to our limits, the way we like it. Get involved!"
The full confirmed dates and album nights are:
4 albums, 4 nights LIVE at the Relentless Garage.
The Complete works of one of the UK's favourite bands.
Overgrown Eden: November 19th – Relentless Garage – London
Also performed live on Nov 18th at Sheffield Corporation
White Butterfly: November 25th – Relentless Garage – London
Also performed live on Nov 24th at Manchester Moho Live
Daydream Anonymous: December 3rd – Relentless Garage – London
Also performed live on December 2nd at Cardiff Clwb Ifor Bach
Herald Moth: December 11th – Relentless Garage – London
Also performed live on December 10th at Leicester Firebug
Event tickets from www.kililive.com or Tel 0844 871 8803
VIP Packages available from www.inmeofficial.com