Spring Offensive – The First Of Many Dreams About Monsters
aaamusic | On 18, Aug 2010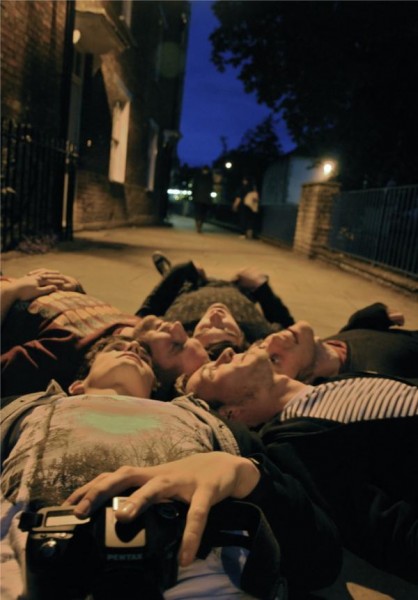 Some, well, okay, many may balk at the notion of a thirteen-minute single. But here is Spring Offensive, bringing with them 'The First Of Many Dreams About Monsters', their own stab at a musical epic. Starting off with a quiet ambient hum and echoing, muffled soundbite, the clicking percussion prompts its flowering into a gently passionate pop-rock song. Every last sound is carefully coaxed into being: the arpeggiated guitars, the warm and emotional vocals, the understatedly powerful percussion, the barely perceptible bass. It all builds up, but never grows overpowering. Even the louder sections where it descends into atmospheric and assertive rock reminiscent of Biffy Clyro and Sunny Day Real Estate, it's not so much rocking out as a deep moment of musical expression.
The feedback then signals what is essentially another song, with higher vocals, and melodically twanging guitars, once again driven by some forwards yet well-mixed drumming. Lyrically, this feels a little less nonsensical in its exploration of the power of time, even if the structure, if existent at all, remains vague.
The final, whispered entrance, with fearful vocals and dark, fearful guitars rising from the depths of the ambient hum as it yawns like a sonic chasm, engulfing all sound in static, is a truly haunting thing to hear at night with the rain at the window. The drums then power the music from this netherworld for one final, mournful moment, the bass droning and guitars trembling melancholy over the surging cymbals, and the vocals fade into the ether of feedback, indeed disappearing into the implosion of cymbals and spiralling guitars just like a dream.
At its poppiest, Spring Offensive's single is very much accessible experimental rock in the aforementioned vein of Biffy Clyro and Sunny Day Real Estate. At its strangest, it is perhaps closer to the hypothetical scenario of Godspeed You! Black Emperor writing something that may one day suffer a radio edit. However, although it is indeed acceptable as a solid track of music, 'The First Of Many Dreams About Monsters' for all its passion and musical ability feels more like an EP. I could pick out three potentially independent songs in the thirteen minutes, and this could make some feel cheated out of either one cohesive piece of music, or three easy-to-digest smaller ones. However, for those of us who tend to listen to whole albums at a time anyway, I would say that as a continuous experience, whether or not this should indeed be one track, it is nonetheless a beautifully crafted ocean of sound that should find its way onto many an introspective playlist.
Spring Offensive self-release 'The First of Many Dreams About Monsters' today as a free one-click-only download here!
Author: Katie H-Halinski