Flash Fiktion – Leni/Science of Sleep
aaamusic | On 23, Aug 2010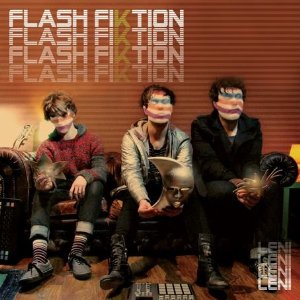 Forcing upon us a frenetic electro-rock barrage is Flash Fiktion, with their double a-side single. 'Leni' is a cross between a manic rave-up and a post-punk cry for freedom, the unreasonably cheerful and rapid synth stabs violently clashing with the punk rock guitars as quirky glitch and handclaps somehow refuses to fully gel with the driving single-note bass, sparse and jagged guitarwork, and the vocals pitched somewhere between Dave Gahan and Robert Smith, the result being a spiky, unapproachable yet fascinating beast. The lyrics are up-front and the primary momentum of the track, holding a punky sneer, a disdain of modern attitudes, and ultimately striking a balance between artistic license and stating their opinion in blunt detail. At the end of the track, frantic high-pitched backing vocals and a collision of all instruments results in a desperate and immediate impact.
The second track, 'Science Of Sleep', is slightly more restrained, and much more reliant on the band's techno leanings, using a dance-pop rhythm with funky hi-hat, pseudo-disco bassline and yet there retains a grim air. The strange overdriven melodies in the guitar solo and falsetto vocals coupled with the poppy sparkle are reminiscent of a more street-smart Muse back in the days of 'Showbiz'. The lyrics are also suitably paranoid, although there is an underground lo-fi edge to Flash Fiktion that Muse never possessed.
I would hazard to say that Flash Fiktion are not yet the finished article. Beneath the veneer of confidence and potential there is still an awkward feel to their music. Their lyrics are occasionally a little simplistic, and their musical elements don't quite gel into a single unit and as a result their songs feel like a collaboration, not a full band. However, it is a strong collaboration nonetheless, and with their confident and unapologetic approach to music and ideas, they could easily find a strong and faithful fanbase.
Author: Katie H-Halinski