The Hilltop Hoods – State of the art
aaamusic | On 24, Aug 2010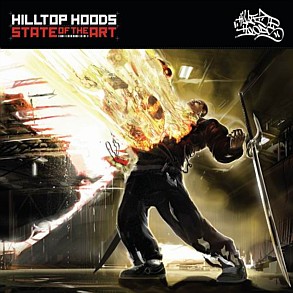 The Hilltop Hoods have come back with their fifth album, pretentiously called "The State of the Art". Actually they have been at the centre of the Australian hip hop scene for the better part of two decades giving it a breath of fresh air, and now they continue their work introducing flawless rhythm, unique melodies and have in general made an all round brilliant 12 pieces of music.
The return announces their coming back as "soldier of the art", The Hoods even sample themselves (listen for "What a Great Night" in the 3:37 black comedy that is "Chris Farley"), in an almost tongue-in-cheek sort of fashion. Throughout the record, a curious sense of dark humor percolates between each track, and on a record where each track seamlessly segues between the other, it's almost fitting.
Hip hop albums in recent times have been tediously inundated with collaborations, not so Sate of the Art.  The omnipotent New York MC Pharoahe Monch appears on Chase that Feeling.  A major boom for any record – let alone one from Australia. Monch doesn't disappoint and demonstrates why he is still one of hip hop's greatest exponents.
She's so ugly is epic with an intro that could be perfect for a Batman movie that suddenly can turn into a gangsta one, while Still standing pays his tribute to reggae.
Hip hop album could be boring to those that don't love the genre, I think that it can be very various thanks to contaminations coming from blues, soul and reggae.
About the emcees, both Suffa and Pressure have idiosyncrasies in their vernacular and dialect to differentiate between the two emcees, and while Suffa again delivers a more memorable performance on State of the Art, Pressure is no slouch.
'Fifty in Five' is an amazing hip hop song. Masterminded and rapped by Suffa, he effortlessly breaks down the last 50 years in verse – it is truly a remarkable feat of production, rhyming and lyricism. This is a clear example of a rare talent and the top of his game.
The Hilltop Hoods are the prove that hip hop is not exclusive of Us and UK, but can come from other countries keeping the same tradition, even if I think they could enrich their music melting some elements from Australia music.
A very good record.
Author: Roberta Capuano