The Burns Unit – Side Show
aaamusic | On 25, Aug 2010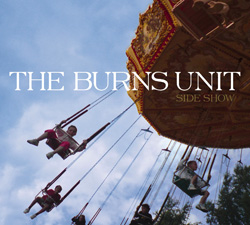 The expectation on this album by super group The Burns Unit were high – it couldn't be any different once you know that involved in the collective are some of the most amazing artists I've ever listened to, such as King Creosote, Emma Pollock, Karine Polwart, Sushil Dade/Future Pilot A.K.A, Kim Edgar, Mattie Foulds and Michael Johnston.
This incredible mix of geniuses gave birth to an impressive, must have album – Side Show: a good mixture of early Delgados and KC. Boosted with great collaborations, such as Send Them kids To War, which accounts MC Soom T, You Need Me To Need This (featuring Emma Pollock on vocal duties), the sound spaces from folk-rock to cabaret, giving ground to magical daydreaming adventures.
Highlights on the album are the duet between Polwart and Anderson in We've Fallen Out, Blood, Ice and Ashes and What Is Life, but the whole album is full of rare gems.
Make sure you add this to your record collection.
Author: James