Union Jackals 'I Am The Sun' remix
aaamusic | On 06, Sep 2010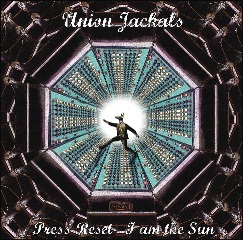 Union Jackals are set to release their debut double A side single 'Press Reset' / I Am The Sun' via Mapped Out Recordings on the 18th October. 'I Am The Sun' lulls you with blissed out vocals and dream like soundscapes. The perfect track to escape from the mundanities of life, it is accomplished and beautiful. 'Press Reset' is the more rousing of the two tracks with its loud, anthemic guitars and memorable vocals.
Union Jackals are a three piece from London, initially conceived in a dream involving other world abduction.
Despite the tight triumvirate of Carl Mann, Paul Reeves and Stephen Barnes at the centre of the Jackals, the band's ethos is one of inclusion. They bring in musical and visual contributions from those who have crossed their paths, minds and hearts. They were dubbed Union Jackals because of this inclusive nature and an obsession with the canine beasts with their sixth sense to scavenge the good and the fresh from the myriad of rotten.
This is aptly reflected in their debut album from which the single is taken. The quasi-conceptual 'Universal Screenplay' is a rousing, rumbling and at times soothing musical tome. It blends psych rock, post punk, shoe gaze guitars, electronic meanderings, prog styling and a sprinkle of sci-fi into a classic guitar pop structure.
The band have started work on a full visualisation of the album which you can see at http://www.universalscreenplay.com A mammoth task involving up-and-coming film and video directors creating a visualisation for each track of the album. Directors are armed only with their skills, ideas, cunning and a non-existent budget. The first fruits of the project will accompany the single release in October.
Union Jackals will be playing Swn Festival on Friday 22nd October:  Model Inn, Womanby St, Cardiff.  Save 18th October in your diary and watch this space for announcement of special London launch gig.
Got a bit of an old School style remix of the new Union Jackals single 'I Am The Sun'