The Drop – Autopsy remix!
aaamusic | On 09, Sep 2010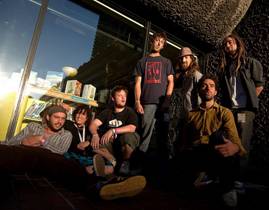 The Drop are a 7-piece live roots reggae outfit from London. Combining reggae with an indie approach to making music and performing, they are set to release their debut single Looking to the Sky on the November 1st 2010.
The band, effortlessly walk the syncopated path laid by generations before. The arrangements are meticulous, leaving the booming dub bass plenty of air to vibrate and never suffocating the thoughtful lyrics of vocalist Dandelion. They have quickly built a reputation for infectious melodies and an authentic heavy roots sound laced with a refreshingly eclectic originality. Dandelion joined the band after previous singer left, an established reggae artist himself, who's solo project had him sing on several well known dub-step releases, most notably CCTV, which was released on the Hyperdub label and was played by Mary Ann Hobbs and Giles Peterson on Radio 1.
The band have already  stormed the UK festival circuit  with appearances  last year at Green Man, Electric Picnic, Beach Break and 2 slots at Secret Garden Party, sharing the stage with acts such as Toots and the Maytals, Dreadzone, Babyhead, Rodney P, Dj Derek, Blackslate  among many others. This year sees them appear at festivals such as Secret Garden, Green Man, Waveform and Manifest to name a few.
Looking to The Sky was produced by Chipmunk producer John Hendicott. The remix of the track by C.R.S.T (Mystery Jets, The XX) is an interesting example of the new 'Future Garage' sound. The single will be the band's first release in the UK on November 1st 2010.
Please find below Autopsy remix for track 'Look into the sky' by reggae outfit The Drop.
Latest tracks by autopsy
For music and live dates check: