White Rabbits – The Salesman (Tramp Life)
aaamusic | On 12, Sep 2010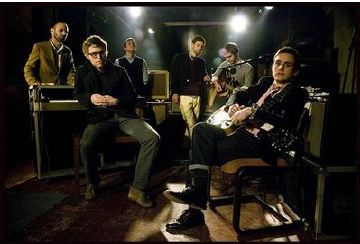 Fourth single from the acclaimed sophomore album 'It's Frightening', the song 'The Salesman (Tramp Life) welcomes White Rabbits back in the Uk for another series of live acts.
The Brooklin's six-piece act, after having enchanted Wembley, the Isle of Wight, and Norwich, will hit Liverpool and London again for two not-to-be-missed gigs.
The Salesman will receive the same critiques that It's Frightening got. The heavy pounding drums and the catchy falsetto of Alexander Even are a guarantee of quality, but it sounds way too Spoon-ish!
There's nothing original about indie-pop nowadays, so we can't really blame this band that has already released two albums of undeniable excellence. Even though, if White Rabbits want to be remembered and stand out from the crowd of the countless revivalist band, they need to free themselves from the gigantic shade of Britt Daniels.
The Salesman is out on the 13th September 2010, available in digital download including the radio edit and the instrumental version of the song.
Author: Lorenzo Coretti