Ghostcat announce new single
aaamusic | On 13, Sep 2010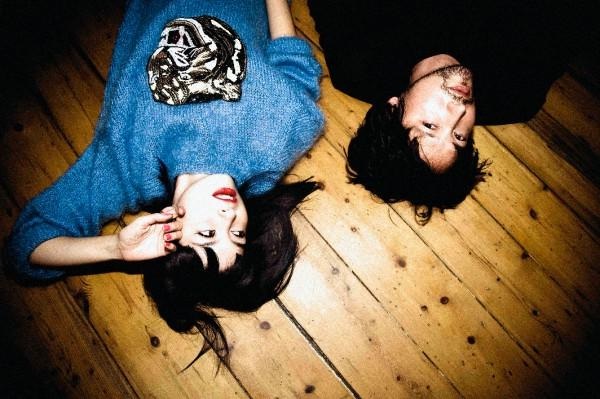 'Everybody On The Dancefloor', is a steamrolling club anthem pointing a gun at wallflowers everywhere. Complete with its Paris filmed, real-life video of front woman Ali Cat gradually losing it on a nightclubbing marathon, it is a monster of a tune. Dirty synths, massive riffs and Ali Cat's infectious snarl, it is guaranteed to turn heads and fill dance floors up and down the country.

Ghostcat are a love-hate duo; a delirious, funtime soundclash of dancefloor beats, hurting circuits, pop lust, sonic sleaze and good time music giving vent to bad, bad thoughts. The match between Ali Cat and Dan Gamble is a perfectly twisted one, pitting a narcoleptic Chinese/Canadian Baudelaire-reading Wu Tang Clan fan singer against a megalomaniac enigmatic Madonna-loving Japanese/English synth guru. Never before in the history of pop music has there been such a danceable catfight.
Dan grew up between Tokyo and London tuning into American pop and deconstructing 80s stadium rock. Born in Toronto, Ali grew up alongside Crystal Castles and Death From Above 1979 before forming her own all-girl teen punk band at sixteen years old.
They met in the bathroom of a nefarious London nightclub and realising that they were both pop (in its broadest sense) obsessives agreed to differ on a perfectly mismatched musical project. First gigs were raucous live shows sounding half The Kills and half Yeah Yeah Yeahs. Gig by gig they got in touch with their inner dirty dancefloor selves so that by the time they were signed up they were flinging crockery as diverse at Lil' Kim and Lady Gaga, 'Some Girls'-era Stones and Trevor Horn around the room.
Their 2009 debut single 'This Is A Bust' shaped up as a dirty disco skipping tune about boys. "Mutant disco moggies destined to haunt us" said The Guardian. "GHOSTCAT make the Gossip look like yesterday's kitty litter" announced Disorder. The single is out on November 1st.
In an effort to let all feline puns dissipate the twosome took time recording their debut album, arguing over the limits of eclecticism in the London basement studio owned by Prince's 'Under The Cherry Moon' engineer Chuck Norman. Titled 'Meet Me In The Bathroom', the resulting record is a down and flirty schizo-disco thing of wonder fusing the joys of electronic nights out with the fembot pleasures of dissecting the opposite sex (mostly not literally).
Having handed over their musical truce to the mastering suite, Ali and Dan accidentally went walkabout in the Far East. Picked by French director Charles De Meaux to appear in his Chinese Mafia gambling movie 'STRETCH' they flew to Thailand to film their scenes. The movie's star David Carradine died while they were out there and events began to take their own course. Carelessly, they forgot to return to the UK, lured by the nocturnal temptations of DJ-ing in Bangkok nightclubs and swapping fashion tips with the local ladyboys. Some months later… on a beach in Italy, dressed in illicitly acquired designer chic, they bounced off stage from a gig for Prada (darling), and realised it was time to release another single.
Assuming they can steer clear of further lengthy misadventures in the global backstreets, and if Ali can keep awake long enough, they'll get round to releasing their brilliant, broken-hearted, party pop noir-dance album in early 2011.
Live dates
Wed 27th October – Moby Dick Club – Madrid
Wed 3rd November – Buffalo Bar – London
Thurs 4th November – YOYO, Notting Hill Arts Club – London
Mon 8th November – SOYO – Sheffield
http://www.myspace.com/ghostcatmusic