Kerrang! Relentless Energy Drink Tour 2011
aaamusic | On 14, Sep 2010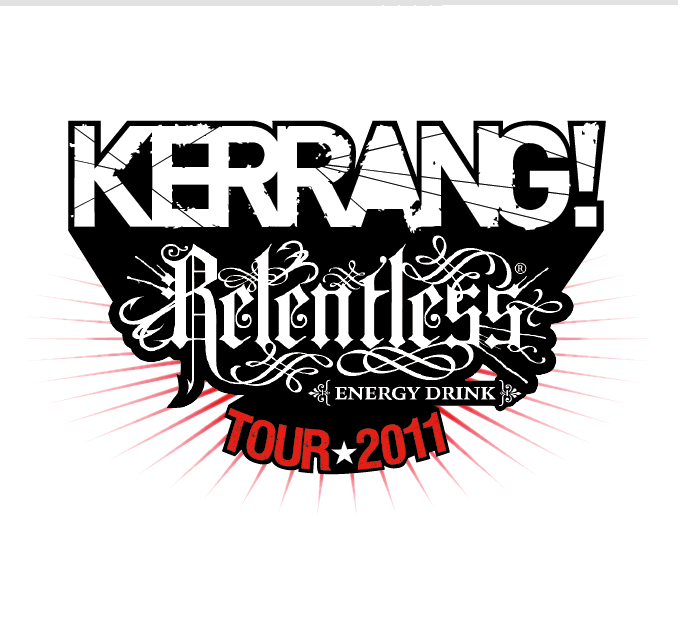 Kerrang! are proud to announce that, for a SIXTH year, the Kerrang! Relentless Energy Drink Tour will once again be hitting the road in February 2011, making its way around 12 cities in the UK and Ireland.
 
Following the phenomenal success of this year's tour, Kerrang! have once again put together the must-see live line-up of the year. 2011's Kerrang! Relentless Energy Drink Tour brings fans a combination of top level pop-punk with headliners Good Charlotte, melodic hardcore from Massachusetts gang Four Year Strong and pop-rock from rising Nashville-based K! Award nominees Framing Hanley.

Kicking off in Dublin on 4 February at Dublin Academy, the tour will then make its way around the UK, culminating in a very special London show at The Roundhouse on 18 February.
 
Tickets go on pre-sale at Aloud.com from 15 September and general on-sale from 9am on 17 September.

"After months of planning, we are really excited to confirm that Good Charlotte, Four Year Strong and Framing Hanley will be playing the Kerrang! Relentless Energy Drink Tour 2011," says Kerrang! Editor Nichola Browne. "Now in its sixth year, the Kerrang! Tour has gone from strength to strength and next year is no exception! February really can't come quick enough!"
 
Headlining the 2011 tour will be California-based pop-punks Good Charlotte. Their much anticipated fifth album Cardiology is set for release in November this year. After plans to release in 2009, Good Charlotte announced earlier this year that after having already finished the album that they were heading back into the studio to record it with a new producer Don Gilmore, who produced their first and fourth records. The first single 'Like It's Her Birthday' is out in October, but the video has already received more than 100,000 views on YouTube. After a decade-long career, Good Charlotte have built up a strong and loyal fan base, and have continued to be at the top of their game. Their recent Sonisphere UK performance proved that they are not going anywhere – 2011 is set to be another huge year for these guys.
 
"This is really exciting for us," says Good Charlotte guitarist Benji Madden. "Kerrang! have always been a big supporter of our band and it's something we don't take for granted. This is the first time we've done anything like this, especially in the UK, and I think it's long overdue. It's going to be like one long party! The bill is so strong – people are going to get their money's worth!"
 
Currently in the midst of a US tour with Comeback Kid, Four Year Strong are fast becoming one of the most talked about bands in hardcore. Since forming in 2001, they have released three studio albums, with the latest Enemy Of The World released earlier this year. Four Year Strong may well be one of the hardest working bands in the rock scene right now, touring relentlessly and sharing the stage with the likes of New Found Glory, All Time Low (last years K! tour co-headliners), Every Time I Die, Alexisonfire and many more. As well as this, they've appeared on the Taste of Chaos tour in the States and the Soundwave Festival in Australia alongside Faith No More and Jane's Addiction. 2010 has been a great year for this Massachusetts-based mob and 2011 is set to be even bigger.
 
Four Year Strong guitarist/vocalist Alan Day says, "We're really excited to do this. We love coming over to the UK because the shows are always amazing".
 
Hailing from Nashville, Tennessee, Framing Hanley formed in 2007, best known for their song 'Hear Me Now' and their cover of 'Lollipop' by Lil Wayne. These southerners are already garnering quite a following in the UK – having already sold out shows in Manchester and London Underworld at the end of the month; their fan base seems to be expanding by the minute.
In May this year they released their second album A Promise to Burn, but, make no mistake, this is just the start for Framing Hanley – expect to hear much more from them next year!
Framing Hanley frontman Kenneth Nixon says, "We feel that this is a big opportunity for our band and it's really flattering to be part of this tour. It's a diverse bill and I think that's one of the coolest things about this tour. This is a huge step for us and it's exciting to be on a bill with such great bands. Being in the support slot, you're pushed to put on a better show and prove yourself night after night. We always thrive in that situation. We really can't wait!"
 
Sam Grant, Relentless Energy Drink, comments, "The Kerrang! Relentless Energy Drink Tour is something we are really proud to be involved with as it has become a rock institution that brings amazing bands to music lovers all around the country. Relentless and Kerrang! are both great brands that work brilliantly together." 
KERRANG! RELENTLESS ENERGY DRINK TOUR 2011

4 February          Dublin Academy
6 February          Southampton Guildhall
7 February          Norwich UEA
8 February          Bristol Academy
10 February         Cardiff Uni Great Hall
11 February         Leeds Academy 1
12 February         Newcastle Academy
14 February         Glasgow Academy 1
15 February         Manchester Academy 1
17 February         Birmingham Academy 1
18 February         London Roundhouse
Ticket prices are £16 regionally and £17 in London  
 
Tickets go on general sale on Friday 17 September at 9am
Tickets will be available from www.aloud.com <http://www.aloud.com>  / www.kerrang.com <http://www.kerrang.com>  and O2 venues
 
Exclusive pre-sale at Aloud.com from 15th September 2010
 
To find out more about Relentless Energy Drink visit www.relentlessenergy.com