My Jerusalem – Gone For Good
aaamusic | On 14, Sep 2010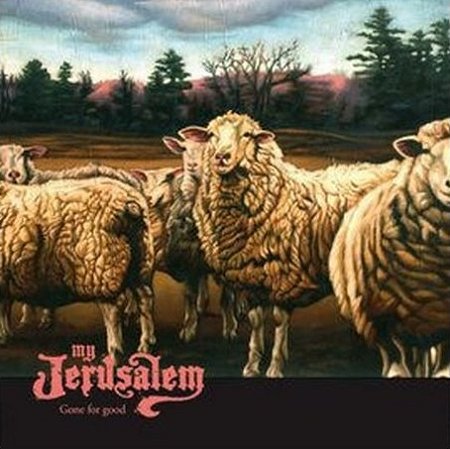 My first impression of My Jerusalem was of a rock indie band with a good knowledge of synths and more than competent musicians all through. Defining bands as indie is quite like defining email as communication or defining salmon as living things. The description is accurate and fulfilled, but nonetheless so incredibly vague that it becomes slightly useless. With definite influences coming from bands such as Kings of Leon, Plain White T's and Klaxons along with slight, but noticeable hints at Reel Big Fish style chord progressions and very occasional use of brass. The feeling of a lot of tracks on the debut album, Gone for Good is one of a cloud of harmony floating at around head height. Occasionally through this harmony and pleasant noise comes a piercing of vocals with a Louisiana blues feel to them.
            If in this review I keep on coming back to the vocal work, it's because this one of the incredibly individual features of the band. At times you will get whole-band sections, at times there will be beautiful flowing segments of melody by Jeff Klein, and sometimes, he will choose to scream instead. The diversity of texture over the tracks is extraordinary and awe-inspiring; from grating distorted synths at the end of Poison the Truth to beautiful simplicity in Proposition. The lack of self-indulgent guitar solos and drum fills provides a nice contrast to some of the formulaic rock currently in the mainstream. Instead Gone for Good provides the listener with a relaxed 45 minutes or so of disconnection from the stresses of reality. It shows us that good music does not have to necessarily conform to the formats currently prevalent in the music industry. The independent bands are coming up with new sounds constantly and My Jerusalem is a perfect example of this. Individual yet also homely; familiar chord progressions overlaid with an individual voice and underpinned by a band-wide togetherness almost tangible in the resultant music.
            Some say only a few bands dominate the country-influenced indie rock scene in England and are impossible to topple from that position of strength at the present time. I myself believe that if one band can be up there at the top, another band with a similar amount of talent can also join or overtake them with relative ease and good exposure. My Jerusalem is certainly one of those bands which, with the right amount of exposure, could happily take over the charts in weeks. Their sound is simply addictive and puts one at ease whenever a song of theirs comes on. A band and debut album both worthy of a lot of recognition and respect!
Author: Francis Windram