Dreamend – My Old Brittle Bones
aaamusic | On 20, Sep 2010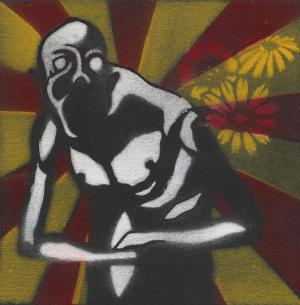 'My Old Brittle Bones', the latest release by Dreamend (Ryan Graveface), is a saccharine-sinister ballad, the delicate finger-picked guitar intro giving an undeniably cute, almost twee feel to the song, but underneath, there is a dark distortion that rises and falls like a slow sonic tide. The vocals are a further confirmation of these less-than-wholesome hints, being not only chillingly monotone in delivery, but saturated in a distinct level of distortion as repetitive lyrics drill themselves into the listener's unprepared mind.
As the track blooms into strummed guitar chords and the vocals become clean and tuneful, the melody remains charmingly melancholy and lovely, however the undertones of distorted drone and the slightly unnerving lyrics on offer create a dark and twisted setting that completely subverts the current bandwagon of irritating folksy love songs. As the instrumental hits, the song dives gleefully into all the folk trappings, with a melody straight from one of those old LPs with the mock-Celtic sleeve art, however the distortion remains a constant and distinctly malignant presence that is far from remaining in the background as it looms over the tune. The vocals are almost gleefully monstrous as the croon an increasingly sinister chorus over the bridge. A further descent into the territory of glockenspiel and handclaps feels like a deliberate pushing of boundaries, as Graveface seems intent on seeing exactly how nightmarish he can make this one single before it implodes upon itself with one last distorted drone.
Combining elements of old-fashioned folk and maliciously dark shoegaze, 'My Old Brittle Bones' is a far cry from the radio fodder we expect to hear from most "indie folk rock" outfits. I would highly recommend this track to anyone with an appreciation for the subtly macabre, although perhaps not to listen to with the lights off.
Author: Katie H-Halinski