Love Deuce – It Takes Two
aaamusic | On 20, Sep 2010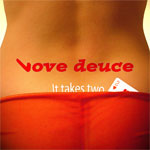 The best thing of Noughties is that they have swept away the dance music and sounds typical of 90s, so I think it were unnecessary to come back to that kind of music in a period of great success for indie rock and for 60s and 80s sounds revival.
Against all I have said before the band Love Deuce have released a debut album made of Eurodance songs, a word that sounds terribly old fashioned.  Someone could say "that's the kind of music kids are into", I think that's not right, you have only to listen to David Guetta o Bob Sinclar to understand that dance music has taken different directions (thank God).
Because we must go on, especially in music, and if you would like to a pay a tribute to old music, you can  make it, but in an original way, not simply copying the same sounds or song structure, so I must be sincere and admit that I'm pretty prejudiced towards this album.
But I'm always honest, so I want to give the benefit of the doubt and push play ready to listen the thirteen tracks. The result is that I'm right, and listeners can go directly to the 13th tune if they don't want to be sucked in a 90s spiral and think to be in the afternoon- disco they went when they were fourteen.
In fact One and only is quite different compared to the others, it's darker with explosive beating drums starting the track, it's clearer as well, without all those "epic" synths , but more modern sounds.
The rest is a jumble artful and pretentious sounds that sometimes are balanced by pleasant thin female vocals a la Madonna.
Obviously I can be wrong and this album could be the forerunner for a new wave of dance music, but I don't really think that it will happen.
Author: Roberta Capuano