Huunter – The Ultraviolet Catastrophe
aaamusic | On 26, Sep 2010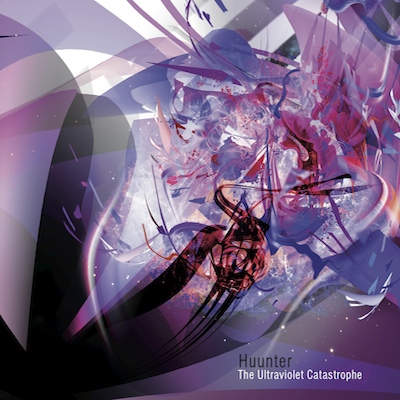 Huunter, artistic pseudonym of Lloyd Bourne, after the brilliant debut album, Shantih, a minimalist classical work, returned to his home studio to concentrate writing a new album and a new artistic direction.
Observing crowds of people respond so viscerally to four-on-the-floor beats of modern dance music, Huunter was inspired to create a similar effect using only classical instruments. After months composing and arranging the result is The Ultraviolet Catastrophe. Inspired by 90s dance music, he fuses classical music with dance beats in a very original way, he's a young man but he knows how to use synths and drums, choosing refined sounds and creating a muffled atmosphere.
The album kicks off with The Antitelephone, it could be the title of an artistic installation, probably the guy's a fan of Brian Eno. The track is introduced by a crescendo of strings culminating into a soft synth and bass drums making the dance groove grows and explodes gradually. After six minutes there'a break of piano solo accompanied with a violin deadening the tension, only for one minute, then the groove takes the upper hand again.
The eponymous second tune could be the soundtrack for a thriller movie, you know the typical Hitchcock-esque strings, immediately supported by the four-on-the-floor beats and a nervous piano melody. It's a genial tune in my opinion, because melts the light dance music with the heavy tension of classical music, made of sudden breaks and crescendo that provide for the absence of lyrics.
The Heisenberg Uncertainty Principle would deserve a mention only for the title, but actually is an amazing track. This time Huunter adds dark tenor choirs to a kind of music not so agonizing creating a good contrast.
The break this time is filled with worshipping church choirs culminating in a distorted tenor solo, simply brilliant.
The last track, The Entanglement is a purer compounding of classical and house, the kind of tune the people could dance in a sort of excited state of trance, it's a very good way to close a short but intense album.
The Ultraviolet Catastrophe is a remarkable album, it experimentes new territories for dance music, professing it not as a B-genre, but as something that can attract snob people as well, being inspired by classical music. The result is a product that can be loved both by disco-goers and people who sit on their armchair listening to music from their very expensive hi-fi.
Author: Roberta Capuano