Performance Return with 'Red Brick Heart'
aaamusic | On 28, Sep 2010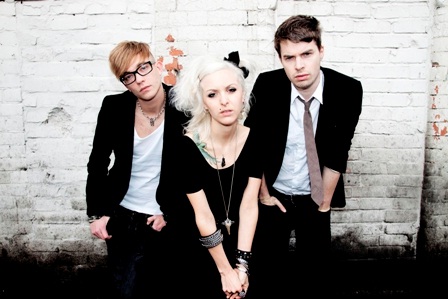 Having survived major label turbulence, a fractious inter-band romance and the lead singer becoming an internationally-published novelist, Mancunian trioPerformance – frontman Joe Stretch, guitarist Laura Marsden and Joe Cross (synths/bass/production) – return with 'Red Brick Heart', their brilliant second album.
With 'Red Brick Heart' Performance capture the mastery and misery of great British pop: on the surface, the music surges with glittering optimism; beneath that veneer, however, there lurks something deeper and troubled. It's an irresistible combination, with Laura Marsden and Joe Cross bringing the musical joy to Stretch's dark, quotable lyrics. This conflict is the essence of the band's charm. 'We actually make optimistic music,' says Joe Cross. 'But I guess there's no real happiness without melancholy.'
The album was recorded at Peter Gabriel's Real World Studios in Wiltshire with producer Cliff Jones (Zero 7, Young Heart Attack, The Golden Virgins), with additional recording at Joe Cross's Rusholme Gardens Studio, The Works in Stockport and Miloco in London.
Stretch, Cross and Marsden, friends since school, formed Performance in Manchester in 2003. The band's dominance of the Mancunian underground lead to a major label deal with Polydor in 2005, and a host of articles tipping the art-pop subversives for mainstream success. But as bands such as The Killers invaded the charts, Performance were busy imploding in a haze of chemicals, violence and romantic rifts that left them lost and in separate rooms.
In 2007, rehabilitated and mates again, the members of Performance returned to Manchester, where they completed the recording of their debut album, (We Are) Performance, which received excellent reviews and was loved by the band's patient fans. Later that year Joe Stretch signed a publishing deal with Vintage/Random House for his debut novel, Friction. Performance began what would become an amicable three-year hiatus. During this time, Stretch published two novels, Friction (2008) and Wildlife (2009). He is currently working on his third. Cross and Marsden formed an electro-pop duo, Kiss In Cities, while Cross also made himself busy as a producer and songwriter, working with the hotly-tipped acts Hurts and The Sound Of Arrows.
'We'd still meet loads in those days,' says Laura Marsden. 'And when we did we'd have a laugh and often end up writing a song and then, I guess, we accidentally wrote a new album.'
'The thing is,' says Stretch. 'We all love being in Performance. We can't help being in Performance. And right now, it's odd, I feel like we're unstoppable.'
If you want to catch Performance live they will be touring with Hurts in October, dates below;
5th October: UK, Manchester Ritz
7th October: UK, Birmingham, The Library @ The HMV Institute
8th October: UK, Bristol, Trinity Church
9th October: UK, London, Shepherd's Bush Empire