Matthew & The Atlas New EP 'Kingdom Of Your Own' out 1st November
aaamusic | On 06, Oct 2010
www.myspace.com/matthewandtheatlas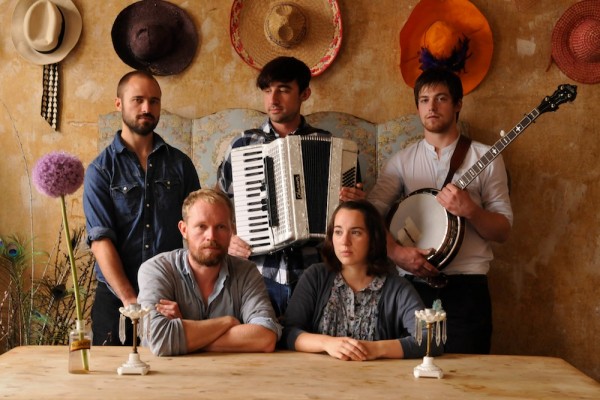 As far as hotbeds of musical talent go, the military town of Aldershot isn't one of the most exciting. Its lasting contribution to the British map of musical exports thus far consists of Amelle Berrabah of Sugababes and Jason 'J' Brown of boy band 5ive. Its landscape is overdue an update, and Matthew and the Atlas arrive as weathered and wise as their frontman's home town history would suggest.
The five-piece are scorched with a sound that combines a woozy, day-dreaming California with a muscular updating of English pastoral folk; the cultured, straw-scratched vocal of Matthew Hegarty backed by tender vocal harmonies and rolling banjo lines. This is a new band – just a year old – but they already sound as timeless as their evident influences.
A sometime landscape gardener, Hegarty sounds like he has endured rain-lashed gales, and humid, dry summers in conjuring up the stories that make up the 'Kingdom of your Own' EP'. These songs (and their singer) sound battered and bruised, and full of the weary wisdom of hard-won experience – it's Hegarty's extraordinary, grizzled vocal that somehow communicates all this, and is the thing that binds the band's compelling individual parts into one spine-tingling vision.
The EP opens with the honeyed four part harmonies of 'Come Out Of The Woods', Hegarty leading his band over a starkly plucked banjo before the song swells to a campfire, torchlit chorus. Next, 'I Followed Fires', with its Celtic undertones and stomping, heartbeat of a bass drum, muscles it's way to a roaring crescendo. Track 3, 'Kingdom Of Your Own', is a haunting lament – less a folk song than classic Ray Lamontagne territory, and with a rolling, banjo-led outro that has made it a live favourite already. And closer 'The Waves' is a sparse and beautiful track that concludes with trumpet flourishes and a haunting vocal refrain.
It's an evocative and bold set of songs, setting solid foundations for the debut album in 2011.
Discovered, by chance, as a local support to Mumford & Sons, Communion snapped up Matthew And The Atlas as the first artist release on their label ('To The North' EP was released in Spring 2010). The band are building a committed live following in London – selling out the Lexington with their first ever headline show earlier this year – and are currently out on tour with Mumford & Sons across the UK, making a big impression on big audiences. These are the first beguiling steps of a band with the broadness of sound to translate to crowds as large of their very own.
EP Tracklisting: Come Out Of The Woods/I Followed Fires/Kingdom Of Your Own/The Waves
Matthew And The Atlas are: Matthew Hegarty (Vocals/Guitar/Banjo), Lindsay West (Vocals/Piano), Dave Millar (Accordian/Vocals), Thomas Field (Drums), Harrison Cargill (Banjo/Vocals),
Matthew And The Atlas Live:
6th October – Academy, Bristol (with Mumford & Sons)
8th October – Hammersmith Apollo, London (with Mumford & Sons)
9th October – Hammersmith Apollo, London (with Mumford & Sons)
21st October – The Luminaire, London (with Crooked Stills)
20th November – Shepherds Bush Empire, London (with Bellowhead)