THE EIGHTIES MATCHBOX B-LINE DISASTER offer up WHITE LIES remix of new single for FREE DOWNLOAD!
aaamusic | On 12, Oct 2010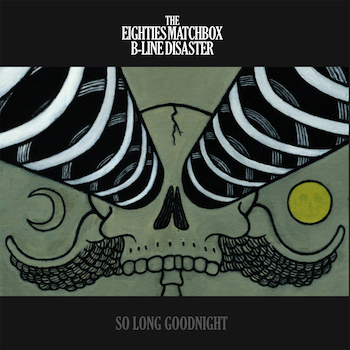 On October 11th, The Eighties Matchbox B-Line Disaster release a new single, 'So Long, Goodnight', taken from their third album 'Blood and Fire' released earlier this year to great acclaim, after a six year hiatus. The single on Black Records, will be available on vinyl and as a download. 'So Long, Goodnight' is the band's first ever ballad.
"To me it really reminds me of the whole Beat Generation mentality," frontman Guy McKnight explains, "and how that filtered down through folk, someone like Bob Dylan, which then transformed into rock music and how that whole beat generation philosophy is basically a strain of proto-punk. 'So Long, Goodnight' reminds me of a road movie. It's definitely an anti-hero ballad."
A remix of the song, by White Lies, is available to download for free now from: http://www.musicglue.com/theeightiesmatchboxblinedisaster
A video for the track will appear online shortly.
Catch the band on tour this month at the following venues:
October
Thursday 21st: Gloucester, Guildhall
Friday 22nd: Manchester, Ritz (Bizarre Ball)
Saturday 23rd: Durham, Live Lounge
Sunday 24th: Hull, The Lamp
Tuesday 26th: Nottingham, Rescue Rooms
Wednesday 27th: Bristol, Fleece
Thursday 28th: Portsmouth, Wedgewood rooms
Friday 29th: Exeter, Cavern
Saturday 30th: Wolves, Little Civic
Sunday 31st: London, Heaven
November
Wednesday 3rd: Newport, Six feet under
Thursday 4th: Brighton, Digital
http://www.artistticket.com/link/?s=the+eighties+matchbox+b-line+disaster
0871 230 0333