The Crayonettes @ the V&A Museum Of Childhood, Sunday 31st October
aaamusic | On 14, Oct 2010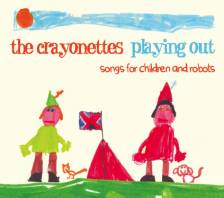 A Halloween-themed afternoon of songs, workshops, dressing up and dancing!
FREE ENTRY TO KIDS, MUMS & DADS!
The Crayonettes make their live debut at a special for-kids show at the V&A Museum Of Childhood, performing songs from their recent kids album 'Playing Out – Songs For Children & Robots' in two 20 minute sets during the course of the afternoon which will also feature kids workshops with Susie Croizer of Electric Juice making kids costumes from recyclable materials (http://electricjuice.webeden.co.uk/) and film director James Hunter on making music videos for slightly older kids. There will be light refreshments available and the afternoon will round off with a kid's disco, courtesy of
The Crayonettes album, is out now on One Little Indian records (copies will be available to buy on the day from the Museum Of Childhood shop).
The event will be free and work on a first come first served basis.
Children are welcome to explore the rest of the museum too if they wish!
The Crayonettes are Kathryn Williams – 'Without doubt one of the most authentic folk voices in the country' (Q Magazine) & Anna Spencer – two mums weary of the traditional 'children's cd' format, those well meant but over-earnest singalongs performed inevitably in a 'well-to-do horse-y voice'. Meeting up for their boys – Louis (4) and Lenny (3) – to play together, Kathryn and Anna noticed the weird and wonderful ideas the boys would conjure up from their imaginations 'and we got to thinking about creating something that would make them laugh and make us laugh. We wanted songs that sounded like punk or disco or hip hop or country – The Small Faces brushing their teeth or The Velvet Underground asking questions about toads!' Far removed from Kathryn's solo work, one listen to 'Playing Out' suggests The Crayonettes are working to deliver not only a happy distraction to kids, but also knowing chuckles to long suffering mums and dads. Inspired by a love of the 'hand-made' feel of Oliver Postgate's classic small films, and with their own ready-made focus group to hand, the pair set to work on creating a kids record. 'We would meet in the evenings when the kids were in bed…and play!' says Kathryn. 'It was so much fun creating with a friend. We would be crying with laughter and have to wait for the giggles to subside before doing a take. When we'd written a song we would play it to the kids and get a reaction.'
V&A Museum of Childhood, Cambridge Heath Road, London E2 9PA Tel: +44 (0)20 8983 begin_of_the_skype_highlighting              +44 (0)20 8983      end_of_the_skype_highlighting 5200/
http://www.vam.ac.uk/moc/