Stream 'Golden Sea' by Our Broken Garden
aaamusic | On 15, Oct 2010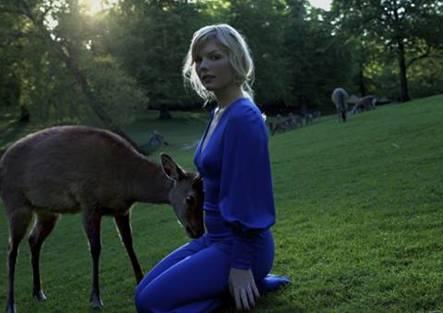 On Monday 18th October Our Broken Garden will release 'Golden Sea' into the World – it is a dreamy, ethereal delight of a record that will lure you into their heady cocoon and we are offering the opportunity to stream it all this week.
Stream 'Golden Sea' Here
Our Broken Garden – Golden Sea by Bella Union
Like the golden sea that names Our Broken Garden's new album, their music is wide and deep, beautiful and mysterious, its thermal currents inviting you to dive in but with the potential to drag you under…
Hailing from Denmark, Our Broken Garden is the sound of sometime Efterklang keyboardist Anna Bronsted's bewitching voice and songs with Søren Bigum's guitar/keyboards and Moogie Johnson's bass, plus assorted musical friends. Following the Lost Sailor debut EP, their debut album "When The Blackening Shows" arrived in 2008. Anna's connection to water began here, with various nautical references in her lyrics, and a deeply atmospheric, drifting ebb and flow to the sound, with a serene, torchy Anna resembling a modern day siren at its heart.
With Anna co-producing for the first time, Golden Sea was recorded at OBG's shared house in the Danish countryside, with different drummers (Poul Terkildsen, from When Your Blackening Shows, plus Søren Poulsen, Fridolin Nordsø and Yossi Karutchi), Robert Karlsson and Morten Svenstrup (from Under Byen) on strings and Palle Hjorth on the local church organ.
Golden Sea is a substantial step forward for the band. There's more drama and rhythm this time around – check 'Garden Grow' and 'The Feral' for clear proof – as if the golden sea was more restless and darker than its colour suggests. Anna puts the change down to wanting to recreate the romantic and grandiose feel of classical music. You can immediately hear that on the opening 'The Departure', with its undulating piano undertow and hymnal beauty. The violins that distinguish 'The Feral' could be Haydn, but the vocal style and melody is pure modern-day Scandinavia. Talking of which, Anna adds that she also saw [film director] Lars Von Triers' Antichrist at the beginning of writing Golden Sea, "and I was very moved and influenced by it. It's so graceful and overwhelmingly dreadful at the same time."
Grace and dread combine stunningly and seamlessly on Golden Sea. 'In The Lowlands' has an overriding sense of blissed-out serenity while "Rip out my heart if you have to," declares the electro-pulsing 'Garden Grow'. 'Nightsong' is more haunted, with an almost tribal pulse running through it. 'The Burial' combines choppy strings with a more uptempo feel and one of Anna's most memorable choruses. 'Seven Wild Horses' – which happens to mention a "golden sea" – has a slower current and epitomises the beauty and mystery at the heart of the album. 'Share' and 'Warriors Of Love' are more typically dreamy numbers before the devastating finale 'The Dark Red Roses', where mournful strings preface one of Anna's most stunning vocals and deep-sea arrangement.
According to Anna, Golden Sea is touched by both life and death. She chose the title, "because I wanted something rich and fruitful. When I was making the album, I had visions of lush green rainforests, lakes and rivers, and the quality of liquid gold water summed up that feeling." But she confesses death features heavily in the lyrics. "But dying is an inevitable part of life, so it can be beautiful and positive too. The lyrics are about welcoming change, saying, I'm ready for it, come and get me, no matter what it takes."