Jon Thorne & Danny Thompson – Watching The Well
aaamusic | On 17, Oct 2010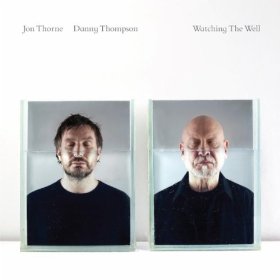 Cinematic, evocative, dreamlike. I thought I should give you the three adjectives that will inevitably be used in describing 'Watching The Well', a classically-influenced instrumental album by Jon Thorne and Danny Thompson. Feeling like the soundtrack to the most exquisite and enigmatic film never made, they take cues from post-rock artists such as The Album Leaf as well as classical/Romantic-era pieces, minimalist composers, jazz, and hints of traditional music from around the globe.
Opener 'Eicher' is a gentle blend of modern minimalist layering techniques and classical instrumentation. Over the eerie electronic background come a classical cello and an Asian flute/clarinet melody. Whispers of hollow percussion and piano creep in, but the two main instruments are the focal point in their chilling and lonely beauty before an abrupt ending. 'Hesse/Reprise' is closer to minimalism in its sparse layers and experimentation in tone. An echoing guitar plays a haunting series of notes, flickering between twangs and harmonics as the echoes build up and shift. In the last forty seconds we are suddenly given a mournful operatic dirge: a solo female voice backed by cello. This skips onto the brief flamenco-toned guitar of 'Joanna'.
Despite the harp strums of the intro, 'Lost' is a borderline electronic track, piano and double bass barely troubling the eerie electronic drones which blend into a mesmeric base around which the bass and piano tiptoe melodically, bending notes and fragmenting chords. 'Molly' is the logical follower, starting with pulsating electronic chimes, over which a mournful and dreamlike string melody is played. Phrasing is key here, the melody starting out what feels like a musical sentence before tailing off forlornly. Exotic guitar tantalises the listener further, and beautifully yet chillingly harmonised vocals add an extra something to raise the hairs on the back of the neck.
A faltering, muted series of notes eases us into the fluttering double bass pizzicato and string section caresses of 'The Generous Heart'. A harp and clarinet provide treble melody over warm basslines in a very welcome break from the earlier ghostlike overtones. Jazz bleeds effortlessly into classical to create an oasis of comfort, even when the spectral drones resurface to lead us to melancholy strings and vocals. As for 'The Light That Guides', it is the echo-drenched guitar that leads us in with a tune so chilling as to be glacial, framed by electronics and a hint of string murmurs. Once the string section truly starts, the tone is immediately sombre and dignified, as woodwind blends jazz and folk melodies create a lilting dirge to lead in the vocals, as the lone female voice treads gracefully along mournful scale patterns. Interplay between instruments is flawless and in possession of a subtle yet intense emotive power.
The same sense of tragic dignity tails the sombre strings of 'The Tie That Binds', where solid jazz bass and clarinet wind themselves around the sorrowful and almost ethereal soundscape before out of nowhere flourishes a full and angelic chorus to ornament the growing melody. The two character pieces of 'Tom' and 'Victoria' are a massive yet well-executed contrast, one being a fluttering piano piece with Oriental melodic hints, the other a slow, bassy piece with a sense of resignation and closure in the use of plaintive low notes and choral vocals.
The creeping harp of the title track is reminiscent of Joe Hisaishi's exquisite soundtracks for Studio Ghibli, as is the gentle piano. The addition of jazz bass creates depth and diversity in the sound, and the end result is one of fascination as the music reaches a hypnotic climax and closure.
Despite moments where the stylistic contrast proves stilted, this is a masterful, truly staggering work. There is simply no weak track to be singled out, and although artsy instrumentals will never have mass appeal, this is a breathtaking album to be held in highest regard. This isn't so much a collection of tracks as a journey through a narrative which can withstand repeated listens.
Author: Katie H-Halinski