Modern Superstitions – All The Things We've Been Told
aaamusic | On 18, Oct 2010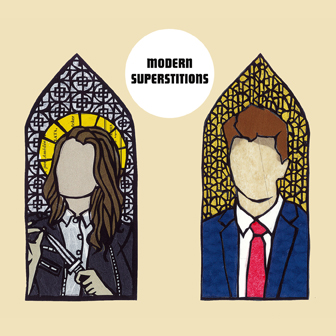 By rights, Modern Superstitions should only exist within the universe of the Scott Pilgrim graphic novels. Quirky, charming, jangly and Canadian, all they need is a reference to some long forgotten video game and the illusion would be complete. However, joy upon joys they exist in the real world, and we get to reap the rewards in the form of their debut E.P, All The Things We've been Told.
Forming in Toronto when the band members were teenagers, the six songs are infused with the kind of youthful enthusiasm and joie de vivre that can't be faked (thought not through lack of trying, You Me At Six we're looking at you…). At its best it sounds like Johnny Marr playing for an alternative universe Ramones fronted by a long forgotten Motown diva, and needless to say, that sounds awesome, it's just a slight shame they rely on it so much.
Kicking off with Go Between, the song gives you a good idea of where the album is headed, Joy Division-esque bassline, rinky-dink guitar lines and singer Alyssa Roseleen's luscious howl all spar with each other and end up working in perfect harmony. Unfortunately this becomes a bit too familiar over the course of the E.P which is where its brevity actually comes in incredibly handy. By being six tracks in length it never outstays its welcome, which is lucky because it very nearly does.
So if you think The Smiths could have been improved by the presence of a genuinely great singer up front, then I commend you on your iconoclasm and highly recommend Modern Superstitions. A great debut.
Author: Will Howard