Enter Shikari Release New Single 'Destable'
aaamusic | On 21, Oct 2010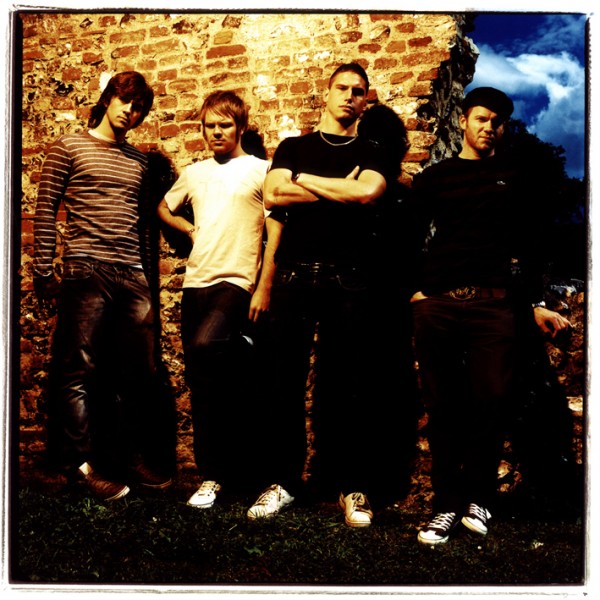 Download (released 26th October 2010) and
Limited edition coloured 7″ vinyl (released 29th November 2010)
Ambush Reality present 'Destabilise', the latest Enter Shikari release and possibly the closest thus far in nailing that breathless post-hardcore/dubstep/pop/free-jazz/marching band/disco/rock hybrid which has come to typify "that Enter Shikari sound" (just before they go off again and work on – hopefully – pushing the boundaries even further with album number three). Suffice to say, the game has been raised… further widening the chasm between Enter Shikari and, errm, pretty much everyone else (big talk, I know, but what's a press release without a little casual hyperbole?).
'Destabilise' is the first brand new Enter Shikari track since February's 'Thumper', and was produced by Enter Shikari & Dan Weller during the summer of this year. The track will be released as a very limited edition coloured vinyl 7″ (backed by live favourite 'Motherstep/Mothership' recorded at the band's Hammersmith Apollo show back in February) which will be available only from independent record stores on 29th November; coinciding nicely with the band's UK arena tour as special guests of 30 Seconds To Mars).
The digital version of 'Destabilise' will, however, be available from this coming Tuesday 26th October as an iTunes exclusive download (exclusive for two weeks before being widely available from all download retailers), a video for 'Destabilise' will surface the same day.
This release will be Enter Shikari's first since exiting their arrangement with Atlantic / Warners, and marks a welcome return to running Ambush Reality on a fully independent basis, and everyone here at Team Shikari is over the moon to be back in the warm embrace of the family at PIAS (as this is a press release for a single, not a corporate announcement, let's not dwell on the 'business' side of things too much here. If such matters are of greater interest to you, then please do not hesitate to get in touch with us for more detailed insight).
The release of 'Destabilise' will effectively mark the last page in the latest chapter of the Enter Shikari story, as the band bow out at the end of 2010 to begin work on their third long player (although work, of sorts, has already begun in the makeshift studio improvised in the back lounge of the bus on the current North American tour).
UK DATES:
NOVEMBER
THURSDAY 25 – Brighton – Centre (with 30 Seconds To Mars)
FRIDAY 26 – Cardiff – International Arena (with 30 Seconds To Mars) SOLD OUT
SATURDAY 27 – Newcastle- Metro Radio Arena (with 30 Seconds To Mars)
MONDAY 29 – Brighton – Centre (with 30 Seconds To Mars) SOLD OUT
TUESDAY 30 – London – O2 Arena (with 30 Seconds To Mars) SOLD OUT
DECEMBER –
WEDNESDAY 1 – Birmingham – LG Arena (with 30 Seconds To Mars)
FRIDAY 3 – Aberdeen – AECC (with 30 Seconds To Mars)
SATURDAY 4 – Manchester – Central (with 30 Seconds To Mars) SOLD OUT
SATURDAY 18 – Hatfield – Herts Uni Forum SOLD OUT
www.entershikari.com   /  www.myspace.com/entershikari