Introducing Milk Kan
aaamusic | On 21, Oct 2010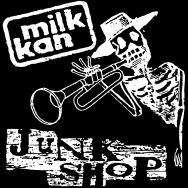 South London urban poets Milk Kan have gone all South American on us! A Columbian collaboration of brass and big beats and Milk Kan's distinctive folk-hop infused story telling entreat us to enter the Junkshop. But beware – once you've savoured the treats on offer you may just never escape as this 21st century twist on the Hotel California is set in a less exotic location – somewhere between Quentin Tarantino's Dusk Till Dawn and a Camberwell crack house. Big club sounds come through with a heavy thump on the B-side with remixes courtesy of South London dubstep drum'n'bass duo Hertzian.
If you've missed Milk Kan on the juke box of the Queen Vic on East Enders or on the BBC Introducing Stage at 'T in the Park' festival you can still catch one of their youtube video sensations "God With An iPod" (their top 10 Indie Chart hit) http://www.youtube.com/watch?v=N5ummA04Zrg or their finger pointing internet viral-video campaign for their Dylan parody "Who Broke Susan Boyle?" http://www.youtube.com/watch?v=LDXmDYlpYrk . You can follow their journey of chaos and mayhem recording their second album on the Channel 4 sponsored Junkshop TV currently being serialised on youtube – it all starts here http://www.youtube.com/watch?v=FfGbePYpgyA .
Described as "genius" by Tom Robinson on his 6Music radio show, Milk Kan are very much part of a London underground music scene but more recently have undertaken tours around England, Scotland and Holland and are touring Ireland in November 2010. They've played live on Dutch TV and performed a Maida Vale session on Radio 1 after which their debut self titled album was declared Album of The Week by Radio 1 DJ Huw Stephens. Milk Kan emerged from Brixton's live music hotspot The Windmill and a stint of gigs in New York City gained the praises of NY's urban troubadour Jeffrey Lewis and signed to the emerging indie Blang label in 2007.
Upcoming Gig Dates
22nd October – 12 Bar Club, London
13th Nov – Pen & Wig, Cardiff
18th November – Munroe's, Galway
19th November – The Stables, Mullingar
20th November – Push Remote, Sligo