Wax Tailor – In The Mood For Life
aaamusic | On 24, Oct 2010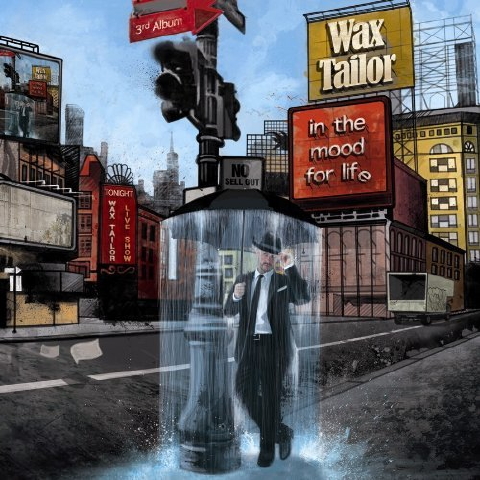 Featuring more "feat."s than you can shake a stick at, Wax Tailor's latest release, 'In The Mood For Life' is a laid-back, sardonic and – surprisingly for first thing in the morning in my case – very palatable cut of trip-hop/dance.
The album opens with one of Wax Tailor's "skits". These are used as transitory items throughout the album, a series of short audio collages that blend announcements, street noise and music. Wax Tailor has done is clearly thought about their placement and style, so depending on what they are bookended by, they might have hip-hop, reggae, or electronica overtones. Some such as 'Street Scent' have a whole dialogue, whereas 'Already Begun', as an intro track, is simply a way of ushering in the listener.
There are, in a way, three or four parts to this record. First is the skits, and second is the straightforward hip-hop element, as shown on 'B-Boy On Wax', featuring some attitude-drenched and skilful yet not overly showy rapping. The horn section, bass and flute are muted and blended with deep bass and record scratches to create a multi-layered backdrop, and the bridge slides in a violin to add a sense of climax. Similarly, 'I Own You' is energetic hip-hop/R&B, buoyed by a triumphant horn section almost giving a fanfare. Charlie Winston is a much more tuneful vocalist, often crossing into singing with a cheerful high-range voice and rapping in a distinctly melodic manner, which means the instrumental backing places more emphasis on chord progressions and a heavy rhythm. Later on, 'Say Yes' has a laconic slow beat, underpinned by a loping pseudo-reggae thump in the drums and reliance on smooth and simple basslines. The vocals drawl out a surprisingly angry political commentary, and the spoken lists and choruses backed up by a skewed series of ascending notes on the horn section. Something on this track, perhaps the slow and deliberate tempo or the deeper voices adds a darker, more serious tone. The last two songs are a double-whammy of R&B: 'This Train' is a slow, deeply textured and soul-tinged track, featuring a smooth yet sneering female rapper and a softer yet no less sturdy drumbeat, backed up by the usual warm bass and a slow, tender melody played on an organ. The chorus is a melancholic croon, contrasted with the rap verses which are intelligent and incisive. Lyrically, this is a strong track too, being angry yet never abrasive, fitting the distinct but not overbearing style.
Elsewhere, there is a series of tracks of the album featuring Charlotte Savary, which offer a counterpoint to the often brash hip-hop in her strong yet feathers-and-glass vocal style. The first of these is 'Dragon Chasers', where her delicately pitched singing is juxtaposed with a dark and heavy trip-hop background, the beats comprising of cymbal, snare and record scratches, and a bassline to force everything forwards. Electronica adds yet more sonic intrigue, darkening the angelic vocals, but unfortunately it also draws the non-lyrical sections out perhaps a little longer than they need to be. This darkening round the edges also crops up on 'Fireflies', which has Mattic rapping verses to a backing track similar to the hip-hop tracks, whereas Savary's softly crooned verses are made sinister with a creeping violin melody. Following on from this is the resigned 'Go Without Me', where blues and classical mix blood in the string section melody and church organ, all wrapped in a downtempo trip-hop exoskeleton beat and glockenspiel. Finally for Savary is 'Greenfields', a desolate ballad where her fairylike vocals are followed by harp and string section to create a miniature closure to her section. Percussion is minimal, quiet and clanging emphatic notes, as the steady arpeggios on harp provide a count, as the track finally fades out.
Then there are the other parts of the album that don't really fit into these. Wax Tailor's solo tracks such as the sombre classical string arrangement on 'City Vapours' and, to introduce the remainder of the album post-'Greenfields', the heavily rhythmic and subtly angry track 'No Pity'. Elsewhere is the energetic soul-funk of 'Leave It', with a catchy, enjoyable melody and skipping rhythm that is undeniably danceable. However, I am saving what I consider one of the best to last: 'Dry Your Eyes' is a mystic, skin-tingling track, blending the sinister bassy trip-hop found in tracks like 'Dragon Chasers' with crooning yet cutting female vocals, and a mystical, eerie melody played on traditional Eastern instruments. This sounds like a difficult mixture, yet it works with a sinister, attention-grabbing and completely fluid grace.
Despite its disjointed nature, 'In The Mood For Life', if you look beyond its tendency to make its tracks a little too long, is a truly interesting and intelligently-crafted series of tracks that are accessible yet in many cases deeper than first imagined.
Author: Katie H-Halinski