Former Ghosts "Taurean Nature" video + stream New Love now!
aaamusic | On 26, Oct 2010
Directed by Amir Shoucri, "Taurean Nature" is the second video from New Love, the new album from Former Ghosts. A very sublime profile of self-hatred, it features Freddy Ruppert as Elvis Presley on his day off.
"The original concept was to recreate a complete Vegas-era Elvis spectacle," says Shoucri. "I planned and arranged the production for months — lights, stagehands, the works — at great personal cost, both financial and mental. We hired four hundred extras: a 23-piece backing band with vintage instruments, a stadium-sized audience all done up in period haircuts and wardrobe, and a second film crew "shooting" a video within the video — just for effect. We even rented an outdoor marquee for the establishing shot.  The day before the shoot, Freddy changed his mind. He said: "I'm just not feeling it dude." So we fired the entire crew, most of whom have families to support, and made this instead."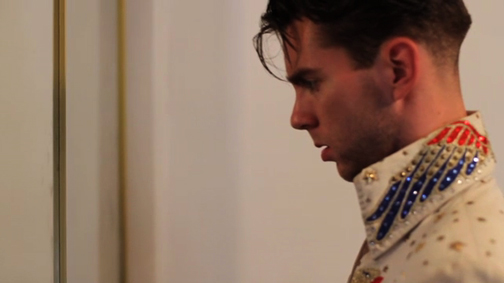 Amir Shoucri grew up in Los Angeles. In 2008, he directed a short film called Decent People. He currently lives in New York City, where he works as a freelance video journalist.
Watch the video for "Taurean Nature" now on Pitchfork.
Starting today, you can also listen to New Love in its entirety. Listen now on Self-titled Magazine's website. The stream also features commentary about each song on the album from Freddy.
Former Ghosts is the synthpop inspired band formed and led by Freddy Ruppert (of this song is a mess but so am I) and consisting of Jamie Stewart (of Xiu Xiu), Nika Roza (of Zola Jesus) and Yasmine Kittles (of Tearist). New Love is their new album and it comes out November 8th on Upset The Rhythm.
Former Ghosts begin their UK tour with Xiu Xiu this coming Friday, playing;

October
29th – Dublin, Darklight Festival at Grand Social
30th – Bristol, Arnolfini
31st – Leeds, Brudenell Social Club
November
1st London, XOYO (rare group performance with Zola Jesus + Xiu Xiu)