School Of Seven Bells Release New Single 'I L U' 6th Dec, Headline Heaven 8th Nov
aaamusic | On 26, Oct 2010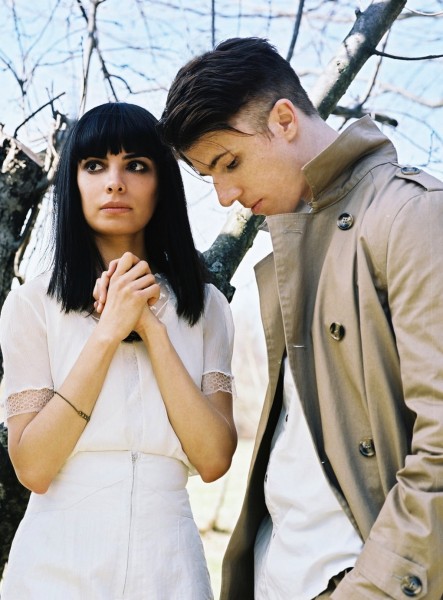 "Floaty and gorgeous, but far from insubstantial, this album is a big step forward"
4/5 Sunday Times
"An accomplished, intriguing record… a thing of beauty" 4/5 Mojo
"With this dream-pop masterpiece, SVIIB have excelled themselves. Turn it up and float away" 4/5 Time Out
"That sweet spot between artful sonics and all-out pop" The Guardian
"8/10" Pitchfork
School Of Seven Bells have announced details of a new single 'I L U', set for release on the 6th December through Full Time Hobby.
Prior to that the Brooklyn dream pop band headline London's Heaven on the 8th November, now with the addition of Jon Hopkins supporting. Tickets are £12.50 and available fromfulltimehobbytickets.sandbag.uk.com. This date forms part of a short European tour as previously reported, full details are below.
School Of Seven Bells go from strength to strength, having just confirmed appearances on two of the US's top TV shows, 'Late Night With Jimmy Fallon' and 'Last Call With Carson Daly'. Recent single 'Heart Is Strange' was playlisted at BBC 6 Music and Xfm among others, and the band have been confirmed to do a session on BBC Radio 2 with Radcliffe & Maconie next month.
In between all this and heavily touring the States this year, guitarist Benjamin has somehow found time to be Victoria Beckham's music supervisor for her New York shows, managing to insert the likes of Can, Harmonia, Suicide, and Velvet Underground into the catwalk soundtrack. It's perhaps a strange mix of the mainstream and underground, but the pop/leftfield crossover is what SVIIB seemingly do best.
New single 'I L U' is a dreamy Twin Peaks-esque love song, mourning the end of a relationship. Layered synth, Ben's woozy guitar licks and big snares throughout, with the Twins' ethereal vocals swirling in and out of this epic pop number. The B side is remix from US touring partners Active Child.
Supporting SVIIB at their London show will be a rare appearance from electronica hot shot and some time Brian Eno collaborator (with 'Small Craft On A Milk Sea' out on Warp) Jon Hopkins. The multi talented Hopkins is not only a respected solo artist and producer, he also turns his hand to film scores (on the upcoming Peter Jackson approved UK independent film 'Monsters') as well as some sharp remixes for the likes of Wild Beasts, Four Tet and Nosaj Thing.
School Of Seven Bells European tour:
NOVEMBER
3rd Paris, France La Boule Noire, Les Inrocks Festival
4th Koln, Germany Werkstatt
5th Ghent, Belgium Vooruit
6th Antwerp, Belgium De Nachten Festival
8th London, UK Heaven
10th Madrid, Spain El Sol